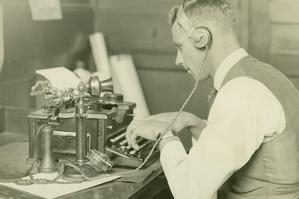 In the darkness, high above Antwerp, Col Jones' heavy bomber took a direct hit. Flak ripped through the 23-ton aircraft, starting small fires near the bomb doors. Seconds later, the Royal Air Force Sterling shook again as an out-of-control RAF Wellington bomber - a "Wimpy" - collected the tail of Jones' wounded plane.
In his diary, Jones, a North Shore boy who signed up to fight for King and country with Britain's fabled Bomber Command, wrote that the collision and flak damage "almost buggered the flying controls completely".
The heavy plane slowed to just above stalling speed. Wireless operator Geoff Cheek "made his way to the rear of the kite to see what happened", Jones continued, and to look for tail-gunner Keith Roderick.
"All he saw was a great gaping hole," wrote Jones. "The turret had completely disappeared. Poor old Keith must have gone with it. Still, he would never had known what hit him because Geoff said the Wimpy came down from above."
On board, in desperation to make it back to England, Jones and the crew threw out seats and spare ammunition to lighten the crippled plane.
Then a German fighter attacked them. The airmen on 149 Squadron Sterling OJ -'T' Tommy had no way to defend themselves because all its guns were out of action.
Pilot Eric Whitney, 23, took his crate up to 10,000 feet, leaving them all "wondering what was going to come next".
Jones' riveting account of the ill-fated bombing trip to the German industrial city of Essen in June 1942 is told in Under a Bomber's Moon, a wartime history by the airman's great-nephew, Stephen Harris.
Drawing on the diary and letters Col Jones wrote to his family back in New Zealand, Harris takes the reader on deadly Bomber Command missions and gets in the cockpit with German Luftwaffe night fighters sent up to cut down Britain's heavy bombers.
Harris, a former journalist - just like his great-uncle, who quit as Auckland Star finance editor and joined the RNZAF - had completed a three-year assignment at the New Zealand Embassy in Berlin when he got the chance to take 12 months' leave to research his book.
His wife, Jocelyn Woodley - also a diplomat - took over the Berlin job while Harris unlocked his great-uncle's long-buried war secrets.
He held wartime gold in the diary and family correspondence: "It was just fantastic," Harris recalled. "Reading it made me realise just what a writer he was. He had this lightness of touch."
Jones was 31 - old for an airman - when he went to war. Crews he flew with were so much younger they called him "grandpa". Patriotism and loyalty bound them.
"They felt an almost sacred duty to defend the Crown, which is hard to fathom today," says Harris. "You sense an incredible drive to lay it all on the line for the Empire."
In Blitz-hit London, the Kiwi airman found a fighting spirit that primed him to hit back at Germany.
"They are a wonderful people, Mother, a wonderful people," Jones wrote in June 1941.
"I have seen the stained and blackened ruins of many buildings. I have seen the twisted iron girders, the rubble that was once walls. I have seen one side of a wall shorn away, disclosing a bed and a table and a towel over the chair.
"All this I have seen - but I never heard a word of complaint, never a word of bitterness, never more than a passing, light reference to the bomb damage."
Jones was navigating the night 'T' Tommy was struggling home, returning from the raid on Essen, one of 272 times the city was bombed during the war.
At 3.15 in the morning on June 6, 1942, Eric Whitney told the crew the aircraft would not reach their base and to prepare for a landing at sea.
In his diary, Jones wrote: "As soon as we struck, water came in and swilled round our seats.
"Some came through the holes in the floor of the fuselage but some cascaded from the top, I deduce from the top escape hatch."
The remaining five crew got into an inflatable dinghy and cast off. "The first thing we did was to paddle round to the rear to see if we could see anything of poor old Keith. There was not a sign - no bloodstains, nothing."
In warm and calm seas, the airmen munched on hard biscuits, lit cigarettes and paddled towards England, calculating they would reach land in 60 hours. But 13 hours into the slow journey, an aircraft sent from their base at Lakenheath in Suffolk spotted the dinghy and dropped a haversack of provisions.
"I have never felt so happy in my life," a joyful Jones wrote. "We just sang and laughed at nothing at all and talked the most ridiculous nonsense ... The only thing was that we thought that Jerry fighters might find us and use us as live bait target practice."
From his studies of German language war accounts, Stephen Harris was able to set the record straight on the aircraft that sheared off 'T' Tommy's rear turret and claimed the life of 21-year-old Sergeant Keith "Moonbeam" Roderick.
The damage was done by a German Messerschmitt ME110 night fighter, whose two-man crew parachuted to safety. Roderick's body was washed up on the French coast.
The exploits of the night fighter force form the other thread of Harris's book.
He tracked down former Luftwaffe pilot Otto-Heinrich Fries, who at 90 offered a clear-eyed account of his war.
And he found Paul Zorner, another German ace who was on patrol one night in 1944 when Jones was on his 35th - and final - operational flight.
Fries' task was defending German cities against the waves of bombers Britain sent into the night skies to bludgeon Hitler into submission.
He recorded at least 18 "kills", his first in August 1943 when he picked off a Lancaster aircraft.
Raking the big RAF bomber with cannon shot and machine-gun fire, Fries watched as the crew abandoned the stricken plane.
The aircraft erupted in a fireball as it hit the ground, Fries counted seven parachutes reflected in the inferno.
Harris asked Fries about his first success.
"It was a feeling like Christmas, Easter, Whitsun-holiday and my birthday rolled into one - not a scrap of nerves, just joy," Fries told him.
But the German airman was relieved, too, that the RAF crew got out alive.
Harris reports that the pilot and a crewman got back to Britain.
The other five became prisoners of war, though one - Canadian Samuel Ramsden - was killed two weeks before Germany surrendered when Allied aircraft fired on his POW column.
Fries and Zorner had no regrets about the war. Says Harris: "I don't think they were political but they were dedicated in fighting for their cause.
"I think it made it easier, particularly in retrospect, that they were fighting a wholly defensive war."
It was the same for Jones: "He had no room for doubt. The Allies had no way at getting back at the Germans other than by sending these great waves of bombers to destroy their morale and their ways of waging war," Harris observed.
Though brutal, the Bomber Command strategy "was quite successful in that it slowed down the German advance and led to its ultimate retreat".
There is a sombre feel to much of the action Harris covers. Death is never far from the page. His great-uncle touched on it in letters he sent home.
In October 1942, Jones told his mother that he had lost the first crew he ever flew with.
"I think that the crew of an aeroplane is the best democracy one could find," he wrote.
"You get to know each other so well when you fly together. You learn what a man is like when things are sticky. That is when you appreciate his worth."
SEETHING MASS OF FIRE 'TAUGHT THE NAZIS A LESSON'
In a letter written to his sister Gwen Restall, Col Jones described the scene when he took part in a devastating raid on the city of Cologne as part of a 1000-strong RAF bomber force on May 31, 1942.
"We could see the target from miles away. We just flew towards it, and then circled waiting for a chance to make our bombing run. We got over the target area, I went down to the bomb aimer's position - the observer always does that at that time - and I had a good look at what was happening below. There were machines everywhere. There must have been German night fighters among this milling crowd; but personally, I saw only British [bombers]. They whipped across in front of us. They nipped from in front and roared away towards the stern. They crossed and re-crossed. Some were some thousands of feet lower. Some were only a few hundred feet. That was what it looked like underneath. The others who could see above tell me it was just like that from where they were. They actually saw three Wellingtons flying wing-tip to wing-tip over the target to drop their bombs.
Eventually we dropped ours, and then got away to have a look. There were literally acres of flames. I don't mean patches of flame and patches with no flame. I just mean that there were acres of a seething mass of fire. I have never seen anything like it - perhaps never will again.
The Rhine flows through the city and there is one famous street which has the Rhine as diameter for its semicircular shape. It is known as the Hohenzollern Boulevard [Hohenzollernring]. It is prominent on any large-scale map of Cologne. I could see it - stark black against the orange red of the sea of fire which billowed on either side of it. The moon and the fires were both reflected in the river.
Later on I suppose the fires would have been partially shrouded in the smoke; but when we were there, the smoke was not important. It was impossible to photograph the result for some days on account of the smoke.
Well, they say that on that one night, we did more damage to Cologne than was done during the whole bombing of London. I can believe it, even though I have seen London. The city must have been a holocaust. It must have been gutted. I think it may be said that we taught the Nazis a lesson that night."
From Under a Bomber's Moon, by Stephen Harris (Exisle Publishing, $34.99)
BOMBERS' HEAVY TOLL
RAF Bomber Command head Sir Arthur Harris made a bold promise to Sir Winston Churchill as he set his sights on Berlin in 1943. "It will cost us 400 to 500 aircraft," he estimated. "It will cost Germany the war."
"Bomber" Harris was right about the loss of heavy bombers. The RAF lost 492 aircraft and more than 3000 aircrew targeting Berlin.
He was wrong about the German capital. It needed the Red Army to bring the city to heel, and then only after desperate street fighting.
The Battle of Berlin, in which Flight-Lieutenant Col Jones flew with a Pathfinder crew in February 1944, was immensely costly to Germany - and to Britain. Sir Arthur sent 891 four-engined aircraft up that night, packed with 2600 tonnes of bombs. Forty-three aircraft did not return, among them Jones' Lancaster Bomber.
Ground casualties were equally high - about 320 people died. One thousand residential buildings and several factories were flattened.
"Strike hard, strike sure," was Bomber Command's motto.
There is little doubt Harris struck hard. He targeted Cologne in May 1942 with 1000 aircraft; the bombs killed 469 citizens and left thousands homeless. Thousands more died in strikes against Hamburg, Dresden and Pforzheim.
The attacks did not break Germany's endurance and its defences took a heavy toll on the RAF. But the night-time raids did force a big switch to defending the homeland.
When the war ended, 55,000 of the 120,000 men who served with Bomber Command had died, 10,000 had been taken prisoner and 8400 were wounded.
New Zealand sent 6000 men to serve in Bomber Command. Nearly one-third - the toll was 1850 - were killed.