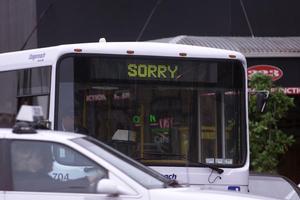 Mike Lee sounds weary. He, along with bus drivers and 80,000 Auckland commuters, is winding down from a long, tough week.
The Auckland Regional Council chairman has already made strong comments about home-grown infrastructure company Infratil, the successful group of investors behind the standstill of much of Auckland's bus system, and he's not finished.
Infratil invests in airports and energy offshore and public transport at home, running buses in Auckland and Wellington through subsidiary company NZ Bus.
On day five of the lockout of the bus drivers, Lee threatened to sack NZ Bus for not fulfilling route contracts, only to find this was not so easy.
The process is more drawn-out than he anticipated.
Lee sounds mystified about the tactics of the "reckless", "clumsy" and "ruthless" men in striped suits who are behind Infratil, the ones really calling the shots over required profit margins and future vision.
Though the buses are back on the street, for now, he says the seven-day lockout, which disrupted life for so many school students and workers, has taken other tolls.
He estimates the region will lose nearly a million passengers from the annual scoresheet, vital statistics which are needed to justify extra investment in public transport.
There's another big impact, too. When you have a dispute such as this, people go away from public transport.
"It's enormously disruptive but they do find alternatives and if they're going back to their cars then, you know, you've got to try to get them back out of their cars.
"There will be a lasting impact."
Lee hesitates at the next question. He's somewhat at a loss, he admits tiredly.
He's not quite sure how to fix this problem of ensuring buses stay operating despite employment disputes.
Though this dispute between NZ Bus and its drivers is patched for now, it is only a plaster and could erupt again.
To be honest, Lee says, he has other important things to be doing, such as getting ready for the looming Super City instead of figuring out disputes involving buses.
So when he is asked how he plans to stop such massive disruption again in the future, he is thrown for a minute.
"I would much prefer we didn't have this going on but, however, you ask a valid question. What is going to be done about it?
"We need to sit down with Arta (the ARC's transport co-ordinating agency) and discuss that very point and resolve on a plan of action, a contingency plan. We can't hand over a mess to the Super City," he says.
Lee says he has been quite shocked at the hardline tactics of Infratil/NZ Bus.
The drivers wanted to work to rule while their pay claim was on the table but the bosses locked them out - and, in doing so, locked out Aucklanders.
Infratil/NZ Bus have taken such a militant approach, he says, he thinks they have done serious damage to their reputation.
Lee describes the Infratil directors as "guys with Beatle haircuts and striped suits" and "cheery chappies".
"You know, if you meet them you're thinking you're dealing with Herman's Hermits, but actually these guys are ruthless operators."
Ratepayers and taxpayers spend around $94 million in subsidies for buses every year - and $58 million of this goes to NZ Bus.
Given the large public subsidies, we asked Infratil CEO Marko Bogoievski whether his organisation cares about bus drivers and Aucklanders.
Bogoievski explains Infratil is a huge investor in both New Zealand and overseas and has been for 20 years.
The company's intention is to grow businesses and for them to flourish.
He doesn't see how improving and upgrading bus fleets, rebranding buses and schedules, training bus drivers and introducing technology is anything other than a positive for Aucklanders.
He says he understands the havoc the dispute has caused Aucklanders and says this was not an outcome anyone wanted to see, "so obviously you're in the middle of a dispute and it's a live conversation, we're trying to get it resolved".
What about the perception that Infratil directors are ruthless, cold and hard-nosed?
He replies: "We've been around for a long time and we've earned every bit of our positive reputation as a high-quality investor, so the proof's in that really."
Infratil is trying to get the best situation in Auckland too, he says.
Employees, shareholders and customers of all their services are important parts of the overall equation but they're looking long-term, not just at whether buses run next week.
They have to manage the overall cost of delivering public transport services in the long run, he says.
Every time there is a tender from a local transport authority to run a major bus or public transport service, tenders are given to the lowest-priced operator.
In the process, service levels and the amount of compensation are determined - there is no free lunch for anyone.
He says if you end up increasing cost structures in the medium term, you end up increasing public subsidies for public transport, but that is a policy issue for planning agencies like Arta. Bogoievski also says he believes the bus drivers are quite well compensated relative to their peers.
"The average wage of a driver, if they were to accept our proposal, would be higher than the average wage of a New Zealander."
One of the accusations against Infratil is that they have been lobbying the Government to repeal parts of the new Public Transport Management Act, which would require them, as a commercial operation, to open their books regarding the public subsidies.
Bogoievski says the problem with the Act is that local authorities want to control every aspect of public transport, including confiscating commercial routes that NZ Bus and other operators have been investing in for a long time.
Infratil's preferred model is to let private provision of these services reduce the need for subsidies, "so in effect, Infratil's leading the charge, through NZ Bus, to try to manage the overall cost of public transport to Auckland ratepayers".
Bogoievski says the Infratil directors are not mean people, "no, I think we're pretty average blokes who are just trying to continue investing in New Zealand and we hope we can".
The company stands by its achievements, he says.
"I know it's provocative to refer to merchant bankers sitting in Wellington, but come down and have a look, have a cup of tea with us, we don't look anything like that."
Part of the problem with buses is division over the extent to which public transport should be publicly controlled and run, or whether private operations are best.
For Infratil, obviously private operators must have a big say in how they run.
Others, such as New Zealand urban researcher Dr Jago Dodson, say local authorities have far too little control.
The Brisbane-based Griffith University research fellow warns strongly against any watering-down of the Public Transport Management Act, saying we are already seeing Infratil starting to test its strength in the current dispute with the bus drivers.
Transport Minister Steven Joyce says he is certainly taking a look at the Act because of concerns from NZ Bus and other operators about the ability of councils to contract over the top of commercial services where they are operating successfully and don't require a subsidy.
He doesn't cosy up to anyone, he adds, pointing out that though he has talked to NZ Bus, he's probably talked "way more times" to Lee, "but no one accuses me of cosying up to Mike".
For Lee, the end is not in sight. Joyce has announced a new Auckland Transport Agency which will operate under the Super City, replacing existing Auckland transport entities.
Lee says though the river of public money will flow - "$160,000 a day into Infratil once normal services are resumed" - public control and accountability over it will be weakened by the Minister's new transport authority.
"So when there's another lockout in the Super City, people will ask the Super Mayor what's going on and the Super Mayor will probably have even less power than I do now to get it sorted."
SERVICE CHARGE
The contracting of services for bus routes is a complicated business and though many routes qualify for subsidies, others don't.
Ratepayers and taxpayers pay around $94 million in subsidies for buses each year.
Around 26 per cent are commercially run, so don't get a subsidy, but even these will often get a concessionary fare top-up.
The bulk of the services - 74 per cent of which are contracted services - are paid for through subsidies.
Even many of the main routes, including the Link bus, and main arterial corridors such as Dominion, Eden and Sandringham Roads, have parts of the service provided through subsidies.
Arta says without the subsidy the number of weekday peak period services offered along Dominion Rd, for example, would be significantly reduced and services after 9pm may not be provided.