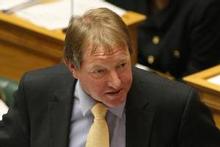 ACC Minister Nick Smith has apologised for saying he would throw himself under a train because his family would benefit under ACC's current policy.
Dr Smith yesterday announced increases to ACC levies and cuts to some entitlements. ACC was facing financial difficulty which Dr Smith attributed to claims largely out-weighing levies.
One area to be scrapped was compensation paid to the families of those who commit suicide.
If someone with a family committed suicide the family could have been given almost $1 million in compensation over time, Dr Smith said.
"If my doctor told me that I was terminally ill and I had 30 days to live, with the ACC rules the way they are, I'd be finding myself a train to throw myself under on the 29th day because my family would be treated so much more generously," he said.
Dr Smith did not go so far as to say the policy was an incentive for people contemplating suicide.
Suicide was tragic but not an accident, he said.
People who died from heart disease or cancer left behind families who were "equally disadvantaged" by the loss of a partner and income.
Opposition MPs, families affected by suicide and people who work in the area were angered by Dr Smith's comments.
Today, he apologised and said he his comments were an "unfortunate analogy".
"What I was attempting to do was make the point that while suicide is a tragedy, it's not an accident.
"I'm happy to apologise if offence has been taken."
Suicide was a "sensitive area", he said.
"It's a tragedy I wouldn't wish on anybody."
Progressive Party leader Jim Anderton said Dr Smith was being "cowardly and insensitive".
By removing compensation to the family of those who committed suicide he was "effectively victimising these most vulnerable".
"If the children or loved one of a suicide victim don't get our support through ACC, then where do they get it from?" Mr Anderton asked.
Mr Anderton's own family has suffered a suicide.
Labour's ACC spokesman David Parker said Dr Smith's comments were "intemperate" and having to apologise compounded his embarrassment at not having political support for the ACC legislation.
When asked who was going to support the changes to ACC legislation, Dr Smith today told Parliament he was "having discussions with a number of parties".
Cabinet have approved the Injury Prevention, Rehabilitation and Compensation Amendment Bill, but National will need support of either the Maori or ACT parties to pass it.
National hold 58 seats in the 122-seat Parliament. Maori and ACT each hold five.
Dr Smith said it was important to pass the legislation, and fast.
The Government want to enact the changes early next year.
ACT leader Rodney Hide said his party was "always keen to help".
However, ACT would not just give the legislation a "rubber stamp" but work through it, then negotiate with National, he said.
ACT's policy supports privatisation of ACC's services.
A Maori Party spokesman told NZPA the legislation was before the party caucus but no decision had been made about whether to support it or not.
Mr Parker said not having support to pass the legislation before announcing the proposed changes raised questions about Dr Smith's "grip on the portfolio".
"He's dedicated the past week to irresponsible scaremongering on ACC in order to gain public support for excessive changes to the scheme, without bothering to ensure he can even pass the legislation."
- NZPA
By Kate Chapman