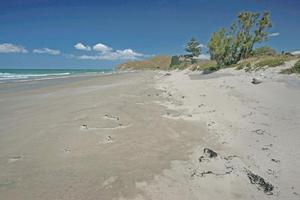 The right to camp out by the beach and sleep to the sound of the surf is being banned in one of the North Island's most picturesque holiday spots.
A Thames Coromandel District Council bylaw which comes into effect today sets a fine of $40 for anyone not camping in a campground or holiday park.
Critics of the bylaw say the crackdown on "freedom" camping will scare tourists away and ruin the romantic ideal of camping in isolation.
But the local tourism board says the fine will not deter international travellers because visitors are keen to preserve New Zealand's clean image.
The council said the problems associated with freedom camping - public drinking, waste disposal, and disorder - were increasing.
It already has power to prosecute illegal campers or seize their vehicles, but the new regulation aimed to make it easier to penalise illegal camping.
Thames Coromandel District mayor Philippa Barriball has opposed the fines, saying they will discourage local and international visitors and hurt the local economy.
She said more camping sites were needed, as the peninsula was expecting an influx of tourists during the 2011 Rugby World Cup.
Tourists visiting the hotspots in the Far North have no need to worry about fines but can be prosecuted.
Far North council monitoring team leader Andy Dowdle said camper vans cannot stay overnight at parks and reserves.
But he said people can pull up on roadsides to sleep overnight.
Mr Dowdle said the council does have problems with people staying at a particular spot for weeks and sometimes months and the council issues those people with a trespass notice.
"Campervan owners like the freedom and they've paid a premium for that," Mr Dowdle said.
The Gisborne Council charges people $10 a night to "freedom camp". The charge includes rubbish bags.
According to the council's website, people need permits before they camp on the side of the road.
Gisborne District Council parks and reserves supervisor Jenny Allen would not answer questions before going through a council spokeswoman.
Motor Caravan Association president Dick Waters said the move by the Thames Coromandel council was a backward step as the number of camping grounds had fallen drastically in the past five years.
He received many complaints from association members who said campgrounds on the peninsula were crowded during summer.
But Tourism Coromandel said several campgrounds had opened recently, and holiday parks were rarely full.
Chief executive Jim Archibald said that despite the economic downtown, the number of tourists coming to Thames-Coromandel had increased.
He did not feel these visitors would be deterred by freedom camping rules because "they were very aware of not wanting to have an impact on the environment ... perhaps more aware than Kiwis".
Mr Waters said he would have supported the introduction of a system used by the Gisborne District Council, which issued freedom camping permits.
"That way the council can satisfy its commercial interests as well as controlling it."
He said the Coromandel council should encourage education on proper waste disposal, and provide supervised areas where people could camp freely.
Whangapoua Residents' Association president Erwin Drok said legislating against freedom camping touched a raw nerve, because New Zealanders clung to the ideal of being able to set up a tent anywhere in the open.
"The Coromandel has such spectacular beaches ... people want to hear the surf crashing all night, and wake up in the morning to a gorgeous beach. Why would you want to be in a campground?"
But he said the sheer numbers of people crowding onto the peninsula during the summer period meant more controls were necessary.
Hahei Holiday Park manager Roy Taylor said free camping - or "low cost housing" - was a blight on his community, as people living in their cars contributed to petty crime.
The council is unlikely to impose fines until its freedom camping strategy proposal is completed early next year.
- NZ HERALD STAFF