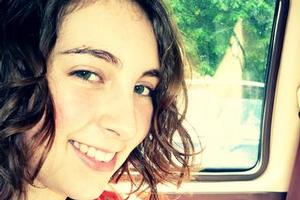 Catherine Peters was nervous about heights.
But on March 7 she set out to overcome her fear by jumping off the Ballance Bridge in Manawatu.
It was the first event of the year for the Massey University Alpine Club, an event that had been running for nine years under the supervision of Alastair McWhannell's Crag Adventures.
Catherine had moved from Christchurch to Palmerston North just two weeks earlier to study veterinary science at Massey. By all accounts she was having a great time settling into university life and according to her Flickr page, had just had her first clubbing experience, which was "awesome fun".
"Not going to become a regular thing though ... It's rather expensive and I need to study," she posted on March 1.
Six days later, Catherine took her place in line with about 100 other students to make their first jump from the bridge. About 80 students had jumped before tragedy struck.
As the 18-year-old attempted her second jump, something went wrong with the rope attached to her harness. She plunged 22m to the shingle on the riverbed and was rushed to Palmerston North Hospital with critical injuries to her head, chest and abdomen.
She had a skull fracture and underwent surgery to remove her spleen in a bid to save her life. But she died in the intensive care unit at 8.20pm.
Eleven days later McWhannell was charged with manslaughter. Last week, the 47-year-old director of Crag Adventures was committed for trial in the High Court at Palmerston North after pleading not guilty to the charge.
The plea came after three days of depositions, where those who witnessed Catherine's fatal jump and the panicked moments that followed, gave evidence before Justices of the Peace George Hills and Robert Campbell.
Police allege McWhannell was distracted after the previous jump and failed to check Catherine's rope. Crown prosecutor Alastair Hall told the court the rope length was longer than the distance to the ground and McWhannell failed to tie it off at the top of the bridge.
He said McWhannell was solely responsible for the day's activities, despite having assistance from volunteers.
Eleven witnesses recounted harrowing details of Catherine's failed jump in front of McWhannell, his wife Jenni, supporters of both families, police, lawyers and media.
McWhannell and his family remained calm throughout the hearing, although at several points Jenni hung her head, flanked by two women who were visibly concerned for her.
Catherine's parents and brother Jonathan, 16, were not at the hearing and are not ready to speak publicly about her death or the court case.
However, a North Island-based family member sat through the evidence and looked relieved as McWhannell was committed for trial.
On Wednesday the court heard activities at the bridge on March 7 began as normal. McWhannell had been running the MUAC bridge swing day for about nine years. He was, and still appears to be, highly regarded by club members.
Witnesses said McWhannell gave some briefings on safety, how to correctly fit chest and waist harnesses and traffic safety. It was understood by all those assisting him on the day that he was responsible for checking each jumper's harness and ropes before they plunged off the bridge.
Jumpers had numbers written on the back of their hands and leapt off the bridge in order. Catherine, described by friends as "vibrant, adventurous and willing to give anything a go", was the 67th to jump, fellow club member Lea Stuart told the court.
"She said she was nervous about heights but she had joined the club to prove [a point] to her parents ... she wanted pictures to send her parents," she said.
"I watched her first jump. She did a handstand. I had her camera and I took some photos. After the jump she was very excited and wanted to do another."
Instead of jumping from the platform Catherine wanted to try a "mafia drop" where jumpers are thrown off the bridge as if they were a body being disposed of by gangsters.
MUAC president Jackson Wong told the court he clipped Catherine's harness to the rope.
"I called out for [McWhannell] to give me a hand to lift Catherine as we needed three people to throw her off ... I held her ankles, another guy held her head and Alastair came over and supported her middle. Alastair checked to make sure her harness was securely attached," he said.
"She was lying in our arms facing up ... We counted to three and threw her over the side of the bridge."
Stuart took photos of the moment the men threw Catherine.
"Just after the photo was taken there was a thud. I looked over and she was just lying there and not moving."
Wong said it was obvious at the time that the rope "never fully tightened".
"She never swung and then she impacted on the ground. I freaked out with shock."
Witness Julie Hamilton, who met McWhannell over the internet just weeks earlier, had come to the bridge for her first jump and was harnessed up, ready to jump straight after Catherine.
"She hit the ground as I stood up on the concrete to get on the rail. Alastair said 'shit' and ran to [a nearby] box, took something out and ran," she said.
"I saw the girl on the ground ... two people were calling 111."
Patrick Braune was in the area with his partner that day and filmed Catherine as she was lobbed over the bridge.
"I followed the girl's fall on my camera and was watching the jump through the small screen on the camera," he said.
"I watched as the girl fell straight down and hit the ground. As soon as she struck the ground I stopped my camera."
MUAC secretary Leith Williams, who has been a member for four years, was the first to reach Catherine.
"When Catherine went for her second jump I was on the bridge. I spoke to her briefly, she told me that she enjoyed the first jump so much that she wanted to do it again," she said.
"I was alerted to something going wrong when someone next to me gasped. I looked over the rail and saw Catherine on her back not moving."
Williams "took off"', running to where Catherine lay.
"She was twisted at the waist and her left leg was broken. She was still harnessed and the rope was still attached to her. I noticed that the rope was also slack ... I remember that the rope had an arch in it."
Williams took Catherine's pulse, which was strong and regular. She was unconscious, gasping and her eyes were open.
"I remember [McWhannell] saying 'I don't know what happened'," she said.
Stuart was the third person to reach the injured girl.
"I took my jacket off to keep her covered. I supported her neck ... she was making involuntary body movements ... I remained with her until she was moved to the ambulance."
Hamilton said she spoke to McWhannell soon after the accident.
"I asked [McWhannell] if he was all right. He said 'I'm f***ed ... I'm f***ed ... I don't know what went wrong'."
Dianna Tippett, who had been assisting him on the bridge that day, told the court it was obvious something was wrong after Catherine's jump.
She said the way the ropes were "dangling" at the bottom of the jumping platform meant the swing had "not happened correctly".
After she left the scene McWhannell rang her cellphone.
"He said 'I f***ed up. I'm the one going for the skid. It's got nothing to do with you'," she said.
McWhannell told police, a Department of Labour inspector and Shane Briggs from Palmerston North's Rescue Emergency Support Team that he could not recall tying off the rope before Catherine's jump.
In a written statement Briggs said McWhannell went through the entire swing procedure including how it operated on a successful jump.
He told Briggs, who has a number of certificates and qualifications relating to rope work, that when done correctly the rope was attached to the top rail and vertical posts and runs through the rigging.
After each jump McWhannell is supposed to reset the rope to specific markers and tie it off to the top rail of the bridge. The rope is then attached to the jumper's harness, McWhannell checks that they are connected correctly and then they jump.
However, Briggs said when he arrived at the scene the rope was "not operational".
He said when the rope was operational there would be a 5 to 8m "tail" of rope remaining on the footpath beside the rail. But there was only about one metre of tail that day.
"On my arrival it was obvious that the rope at the end of the bridge was not tied off," he said.
Briggs asked McWhannell if he tied the rope off or checked the ropes.
McWhannell said he could not recall.
He told Briggs he had seen and heard Catherine hit the ground.
During the hearing lawyers for the Crown and McWhannell questioned witnesses about safety procedures on the bridge, the systems in place on the day of the tragedy, communication between McWhannell and those assisting him and what they saw in the moments before the fatal jump.
The general picture was that the jumps were organised well but not "militantly" and McWhannell was making adequate checks.
However, most witnesses could not be 100 per cent certain about what McWhannell did and did not do with Catherine's rope, what checks he made and whom he communicated with in the final seconds before she was thrown.
One person was certain though; in Braune's written evidence he reviewed footage of other jumps he had filmed that day.
"I could see clearly how the rope was set up when it was tied off properly.
"I could clearly see the knot. I am now sure in my own mind after looking at that video that when I looked at the anchor two seconds after the fatal fall there was no knot. I can recall seeing the loose ends of the rope."
McWhannell was asked at the depositions hearing if he wanted to enter a guilty plea. He emphatically pleaded "not guilty". The public gallery remained quiet as he was remanded on bail until October.
It was only as he left court, surrounded by his supporters, that McWhannell cracked a relieved smile, shook hands with his defence team and walked to his car.