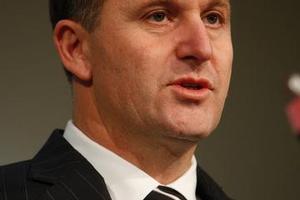 The Government has announced 40 places in controversial military-style boot camps will be available to deal with serious young offenders.
The camps, to cost $5.3 million over four years, were one of a range of initiatives announced by Prime Minister John Key in Wellington today.
The Fresh Start Offenders Package will cost a total of $59.1m over four years and will create almost 3000 places for youth in mentoring, community and residential programmes.
The military-style camps will provide up to three months of residential training followed by up to nine months of support and mentoring.
Mr Key acknowledged criticism of the camps received during the select committee process but said he made no apologies for supporting them.
"Yes, they'll involve some marching exercises. Yes, they'll involve military facilities. I personally support that."
The camps would also involve drug and alcohol rehabilitation and education, Mr Key said.
"I've always believed that boot camps in isolation won't work."
They will be run by Child Youth and Family, the Defence Force and a non-government organisation.
In addition, an extra 50 places will be available in supervision with activity orders programmes which will run for six months and include some military-style training.
The six month programme will be followed up by six months of supervision and will cost $15.5m over four years.
The programme will begin with a week-long wilderness camp followed by assessment of each youth's needs and a daily programme to help with transition back into the community.
Each camp will have a maximum of eight young men attending.
The Government will also fund 1000 places in a community youth programme to get low-level offenders involved in activity programmes run by experts, 1232 mentoring, parenting and drug and alcohol orders and 30 places for electronic monitoring of offenders under intensive supervision orders.
Court-supervised intensive adventure camps of up to ten days will be aimed at steering youth away from crime at early stages and will cost $5.4m over four years for 200 places.
Social Development Minister Paula Bennett said some camps were already running and involved "10 days in the bush finding yourself".
"I was speaking to a group of young people not that long ago and I said `what's the best thing about being out in the bush?' They said well the hardest thing was doing 7 kilometres with a pack on your back.
"What was the best thing? Doing 7 kilometres with a pack on your back."
An innovation fund will provide $4.6m to programmes led by organisations with a proven track record.
Mr Key said the initiatives should "deal to some of the unexploded time-bombs currently sifting through the Youth Court".
They will make communities safer and turn young people off a life of crime, he said.
The success of the programmes will be assessed by an evaluation tool that was being set up with the initiatives and would be based on the short, medium and long term outlook of those who participated.
The programmes will be funded with money set aside in the 2009 Budget.
- NZPA