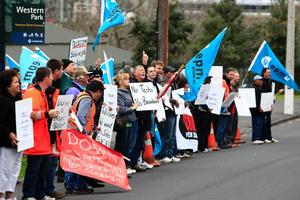 Telecommunications engineers continued their strike against a division of Telecom yesterday as the Council of Trade Unions (CTU) called on the Government to halt negotiations over broadband with the company.
Up to 1000 engineers walked off the job to try to get Telecom's network division Chorus to abandon a contract agreement with Australian company Visionstream.
Under Visionstream, engineers would become owner/operators, providing their own equipment and transport.
CTU president Helen Kelly said the Government should cease talks with Telecom over the roll-out of broadband until it agreed to treat workers better.
"The Government has launched a number of initiatives to protect jobs during this recession," she said.
"It needs to make sure the bottom line from these programmes is not undermined by contracting with companies with bad employment practices such as Telecom."
M Kelly said Telecom, through Visionstream, was bullying workers into bad contracts and risking their safety as they would be pressured to work long hours.
"The reality is that poor-performing companies end up costing the taxpayer extra money ... [and so] it makes sense that the Government gets choosey."
Around 200 lines engineers gathered near Telecom's Auckland headquarters yesterday and marched to the main gates waving placards and carrying banners such as "Greedy Telecom", "Telecom Sucks" and "Telecon".
The vocal crowd chanted slogans and rattled the main gates, and some clambered on top of the gates to get their message across.
The strikers said Telecom's moves would leave many staff jobless and put the future of New Zealand's telecommunications network at risk.
The current industrial action coincides with the first redundancies from the model and follows numerous other strikes and work-bans.
"This dispute isn't just about our members' employment but about an industry that has been run down and squeezed for profit until it is dry," said Joe Gallagher, national telecommunications organiser for the Engineering, Printing and Manufacturing Union (EPMU).
The EPMU has also criticised the state of the New Zealand network.
"A lot of our telecommunications infrastructure dates back to the 30s and many of our exchanges are a decade past their use-by date," he said.
"But instead of investing in the skilled workers needed to keep it running and improve it, Telecom are driving them out of the industry."
Chorus communications manager Brett Jackson said Telecom was committed to the changes to the contracts
"These changes are necessary for us to make good on our promise to deliver a world-class network that can support ever-faster and better telecommunications services for New Zealanders."
- NZPA