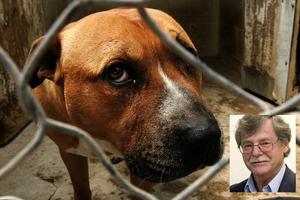 Herald columnist Brian Rudman's call to "throw another pit bull on the barbie" has caused an international storm, but is now bringing words of support.
Angry emails from the US, Canada and the UK are pouring into the Herald after his column spread online.
Rudman said people should "not get too sanctimonious over one dead pit bull" in the wake of the story about a dog being cooked on a family BBQ in south Auckland earlier this month.
The email feedback was almost universally opposed to Rudman's comments until this article was published.
Now some supporters have joined in the debate.
One reader emailed him to say: "Hello From Canada, I agree 100% with your article.
Throw all the pit bulls on the barbie along with similar attack dogs. These killer instinct dogs have no place in modern society.
The owners of these killer instinct dogs should be held accountable for the pit bull attacks. I say in cases of unprovoked attacks force the owners to watch their pit bull roasting on the barbie."
Rudman had said New Zealand has a hunting, shooting, fishing culture.
"There's no squawking from the politicians or the general public about the morality of dropping a live crayfish into a pot of boiling water or, if they're lucky, sticking them into a freezer to slowly 'go to sleep'."
But overseas correspondents questioned what sort of people we really are.
Nancy Bell of Canada wrote that his article implied that everyone in New Zealand should hit pit bulls on the head with a hammer and toss them on a fire for dinner.
"Is this what people in New Zealand call fun? Or is this how the people there treat their pets?"
Dianne Singer said the depiction of our culture did the nation no credit. "Your nation and your readers deserve better."
A writer named Eric called for New Zealanders who agreed with Rudman's comments to be thrown on a barbecue themselves.
"That would solve two issues: New Zealanders that hate pit bulls and reduce world population. Not to mention the benefit to the land that would be freed from the most horrific parasite of all time - mankind."
Josie Comery called Rudman "sick" and said murderers start by killing and torturing animals.
"Yet here this guy is telling people to go ahead and do it. First a dog, then a child. Both innocent, both needing love and affection. Both can grow up to be scared or aggressive if treated badly at a young age."
Sue Hallmamn, who owns pit bulls, said that trying to stir up people to kill family pets of any kind was "a nasty thing to do and you should be ashamed of yourselves".
Some writers didn't mince words in their description of the writer.
California's Amanda Sturch began her attack on the article with the statement: "I'm shocked that you have someone so uneducated and mentally unstable writing for you."
Claire from the UK said she is glad she will never meet either the pitbull owner involved or the columnist "as I would strongly have to restrain myself from bludgeoning them both".
Rudman reacted to the comments today by saying: "If the abusive and threatening tirade from US pit bull owners is representative, then is it any wonder that their pets have learnt to be equally aggressive and life threatening?
"If they'd read past the headline they'd have realised my column wasn't specifically about pit bulls at all."
- NZ HERALD STAFF