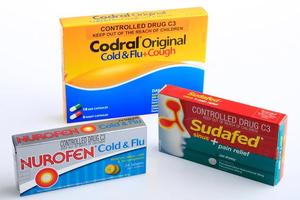 Over-the-counter sales of cold tablets that use pseudoephedrine will be banned if the Government takes up a recommendation by Prime Minister John Key's chief science adviser.
Mr Key confirmed yesterday that Professor Sir Peter Gluckman had delivered a report on precursors, the chemicals that are used to make the drug methamphetamine, known as P.
He asked Sir Peter to prepare the report and focus on whether it would be possible to eliminate pseudoephedrine from cold tablets that are sold off prescription.
"He has recommended a number of potential options. One of them is to ban pseudoephedrine in terms of over-the-counter and non-hospital medication," Mr Key said at his post-Cabinet press conference.
Asked whether that meant pseudoephedrine-based cold tablets would become prescription-only medicine, the Prime Minister said: "If that was the preferred outcome, if that was the process the Government adopted."
Mr Key would not discuss the details of Sir Peter's report, saying he was working on a number of other initiatives to deal with the drug problem.
He said he would release the report and his own recommendations "in the foreseeable future".
The Prime Minister asked for the report in May. He said at the time that the Government was looking at a wide range of measures.
"I do sense there's a really strong desire from the community for the Government to show some leadership ... It's a $1.5 billion problem, it's wrecking lives and it's wrecking families."
Pseudoephedrine is the main precursor for methamphetamine and can be distilled from cold and flu tablets.
Mr Key said in May that some US states had eliminated it from such tablets and he wanted to look at all the options.
- NZPA