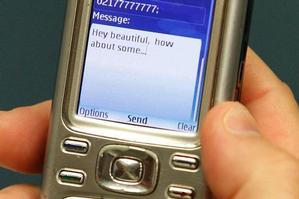 Parents are being warned that explicit photos of their teens could end up online as a disturbing new trend hits our shores.
The "sexting" phenomenon - the taking and sending of intimate photos of oneself on a cellphone - has made headlines overseas and now tech-savvy Kiwi teens are getting in on the act.
"A lot of youths don't realise that it is a permanent record if it gets on the internet," said Steve O'Brien, of the Department of Internal Affairs censorship compliance unit. "At their age they think they're bulletproof, but these are things that will possibly come back to haunt them."
Lee Chisholm of NetSafe said the organisation had seen an increase in calls about sexual images taken on cellphones ending up online.
Earlier this year, Internal Affairs removed a cellphone sex video featuring a 17-year-old Christchurch girl from the internet.
The increase is linked to improving mobile technology, with more cellphones having camera functions and posting to the internet becoming easier.
O'Brien said distributing "technically objectionable" material carries a maximum 10-year jail term and if the image features someone under age, the consequences are worse.
In 2007, 32 Australian teenagers were prosecuted for child pornography as a result of sexting, and there have been similar cases in the United States.
A British study of 11 to 18-year-olds released last week revealed more than a third of the 2000 kids interviewed had received a sexually explicit text or email.
A survey by an Australian magazine last year found that four in 10 readers had been asked to send sexual images of themselves.
Sex therapist Helen Mounsey was sure sexting is as prevalent among Kiwi teens and concerned how damaging it could be.
"Adolescence is a pivotal stage in development and sexual exploitation occurring at this time can be traumatic."
Internal Affairs works with police, Netsafe, Telecom and Vodafone to promote cellphone and internet safety.
Detective Senior Sergeant Neil Holden, of the police adult sex assault and child abuse team, said an online child exploitation team was being set up with the sole aim of monitoring the web.
"We are very much seeing an increase in material ending up online via cellphones."
Vodafone head of corporate responsibility Tom Newitt said sexting was a "worrying trend". The telco gets about 600 complaints about inappropriate texting each month.
Stars reveal naked truth
No woner teens are keen on sexting - some of their favourite stars are doing it.
High School Musical's Vanessa Hudgens last week became the victim of a sexting scandal for the second time.
In 2007, she allegedly posed nude for boyfriend and co-star Zac Efron with the photos ending up online. A red-faced Hudgens admitted the pics were hers and apologised to her fans.
Last Wednesday, new cellphone snaps of the now 20-year-old posing topless were removed from cyberspace on the insistence of Hudgen's lawyers, who said she was underage when they were taken.
That coincided with the emergence of nude cellphone pics of teen Twilight star Ashley Greene.
Other bright young things to fall prey to the perils of sexting include R&B stars Cassie and Rihanna, and Disney starlet Adrienne Bailon. Alice Neville