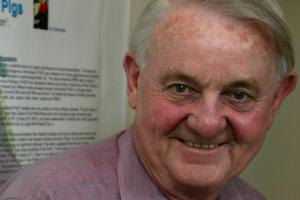 Middlemore Hospital has had an unprecedented rush of patients offering to be implanted with pig cells in its trial of a ground-breaking therapy for type 1 diabetes.
More than 300 people worldwide with type 1 diabetes, an auto-immune disorder not related to obesity, have applied to take part in the trial.
But the Centre for Clinical Research, which is running the trial at the hospital in South Auckland, wants only eight patients who fit strict criteria, and they must live within reasonable travelling distance.
What's more, because of the potential risk of introducing pig viruses to the human population, the trial's designers want to minimise the chances of participants later having children.
Women who sign up must be past menopause or have been sterilised. Men must agree to always use condoms afterwards.
The centre's clinical director, Dr John Baker, a Middlemore diabetes specialist, said yesterday that Living Cell Technologies, the company that produces the therapy from pig pancreas cells, had predicted the phenomenal demand to join the trial.
"We've had correspondence from all over the world from people who want to be considered for the trial - truly desperate people."
The short-list has around 20 names on it and two patients have started the two to three months of "run-in" tests of glucose levels and other clinical parameters to establish a base-line for comparison purposes.
They are expected to receive their abdominal transplants of pig cells specially coated in a seaweed-based gel - the cells release insulin and other essential hormones - by the end of this year.
The remaining six are expected to be treated next year, but there will be a pause after treating the first four patients, during which an independent data safety monitoring board will analyse the information gathered and decide if the trial can proceed.
Living Cell says that although transplanting pig cells to humans poses the risk of cross-species infections, this is minimised by the pathogen-free status of its pig herds.
"The worldwide experience to date in more than 200 patients who have received transplants of pig tissue has not demonstrated evidence of transmitted xenotic [cross-species] infections."
Because of the intensive nature of the trial, participants - restricted to adults between 35 and 65 with a severe form of the disease - must live within reasonable travelling distance of the hospital. In the first year after being treated, they will have to visit the hospital for tests at least weekly, and they will be monitored periodically for the rest of their lives.
The therapy has shown some evidence of stabilising diabetes and reducing the need for insulin injections in a Russian trial.
Dr Baker said there was some evidence - from trials using cells from human organ donors - that pancreatic cell transplants could reverse complications of diabetes.
"That's very exciting."
Living Cell's medical director, Professor Bob Elliott, said there was reason to hope that the "xenotransplants" from pigs to humans transplants might reverse early kidney damage.
He said only New Zealanders would be admitted to the trial because of health authorities' worries about pig infections and that "xeno-tourism" - foreigners joining the trial and leaving the country, and the trial's monitoring, soon after - could spread any such infections around the globe.