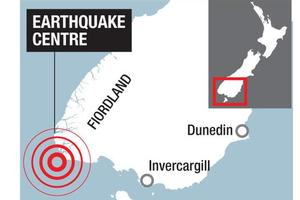 Officials are today checking for damage after a huge earthquake rocked parts of the South Island last night.
People ran from restaurants in Queenstown as buildings shook and lights went out. Phone lines went down as people overloaded the lines.
GNS recorded the quake as 7.8 magnitude at 9.22pm followed 20 minutes later by a 6.1 magnitude.
The quake was followed by violent aftershocks felt as far north as Wellington.
GNS seismologist Bill Fry said the aftershocks would last for the next few weeks.
Mr Fry said there have been a series of after shocks measuring five on the Richter scale and a ton of "over fours" already.
Click here for reader experiences of the earthquake.
The first of the quakes was 5km deep and was centred 90km north-west of the Southland town of Tuatapere.
Prime Minister John Key is visiting Invercargill today on a scheduled trip and said any government response would depend on damage, which had yet to be assessed.
"If there is significant damage or something that I can usefully be deployed to I will certainly go and have a look and lend a hand," Mr Key told Radio New Zealand.
"All the feedback we've had so far is while it's been a large quake, certainly at this point no reported loss of life which is fantastic, and no great reports of damage."
Damage checks
Southland Civil Defence emergency management group were today carrying out an aerial survey to check for damage.
Group co-ordinator Neil Cruickshank said that while there had been no reports of significant damage overnight, checks of bridges and roads would be undertaken this morning.
"While there has been disruption to electricity supplies, power companies reported no major problems, and the rail network is reported to be undamaged. Telephone services are operational," he said.
"Previous experience suggested that the quake would have triggered land slides in remote areas of Fiordland.
"There may also have been minor damage to buildings, such as falling chimneys."
A Southland police spokesman reported a fallen power pole in Otatatara and a burst water main on Lincoln's main street, but said he expected more reports of damage would come in as people opened up their businesses today.
Invercargill police Inspector Olaf Jensen said the quake was significant enough to send staff into doorways.
He described it was a strong, rolling quake rather than a sharp jolt.
The controller of Southland's civil defence emergency management group, Neil Cruickshank activated the region's emergency operations centre to assess damage reports and said the region had been given "a good shake".
"Phone services were down in east Invercargill and power was out for some time in the suburb of Otatara because of the earthquake," he said.
Southland District Council said there were no reports of substantial damage in the Milford and Te Anau areas.
The quake triggered an alert from the Pacific tsunami warning centre in Hawaii which saw theatregoers evacuated from Sydney's Bondi Pavilion and residents warned to keep away from the water's edge.
About 50 people were also evacuated from homes and resorts on Lord Howe Island.
However, there was only a small surge of water, about 17cm high, and the tsunami warning was cancelled after its size was confirmed on arrival at Bluff at about 10.30pm.
Residents describe quake
Margaret McLellan, who lives in Riverton, near the epicentre, said the quake, "came in a big gush like a wind. I'm glad all our lights are fixed ... and that our house is built on rock."
Wanaka resident Simon Darby said he ran out of his house after a rumbling feeling in the ground.
"It must have lasted about two and half minutes. I lived in Tokyo for three years so I know what large quakes are like. This was easily the longest and biggest I have felt in New Zealand.
"It wasn't very violent, more of a rolling feel. But it had a power about it - I ran straight outside into the carpark."
Greg Roberts, a pharmacist living in Invercargill, said it struck and "it shook like hell".
"I've lived here nine years and that was one of the better ones. The house was creaking. You just have to sit tight and hope the builders have done their job."
Mr Roberts said he had spoken to staff at one of his pharmacies in Te Anau and things had fallen from shelves on to the floor, but there was no apparent damage to the building.
Also in Invercargill, Laura Boulton and her flatmate cowered in a door frame for about four minutes.
"The whole house was moving. The foundations were rocking. I felt seasick."
Central Southland man Warren MacPherson said a light in his house swayed "a good six inches each way".
He was on the phone when the quake struck and rushed outside.
"By geez, there was a fair bit of movement," he said.
Invercargill police Inspector Olaf Jensen said there were no immediate reports of damage in the city, but the quake was significant enough to send staff into doorways.
He described it was a strong, rolling quake rather than a sharp jolt.
New Zealand has between 10,000 and 15,000 earthquakes each year.
The biggest known was the magnitude 8.2 Wairarapa earthquake of 1855.
The biggest since instrumental recording began was the 1931 magnitude 7.8 Hawke's Bay earthquake.
- With NZPA