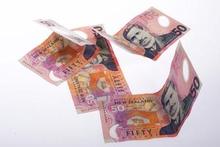 Almost half of working New Zealanders would only last a month on their savings if they lost their job, a new survey shows.
More than a quarter say they will need to use their credit cards to pay bills in the coming quarter.
People in the 18 to 34 age bracket were particularly vulnerable, according to Dun and Bradstreet's survey of consumer credit expectations released yesterday, with 55 per cent only able to survive for four weeks if they weren't working.
This compares to 46 per cent for Kiwis aged 35 to 49 and 32 per cent of those aged 50 and over.
The survey, which interviewed 905 New Zealanders online, focused on expectations for savings, credit usage and spending between July and September.
The younger age groups were also more likely to spend money they didn't have, with 34 per cent using credit for purchases.
Of those over the age of 50, 19 per cent said they would use credit.
The younger age brackets were also more likely to apply for new credit or a credit limit increase.
BNZ spokesman Tony Alexander said New Zealanders' household saving rate was one of the worst in the OECD.
"We are definitely a nation of household borrowers rather than savers.
"We don't save much so if we get made unemployed we don't have much to live on for very long. If we get sick we have to rely on the state rather than funding our own healthcare."
He said saving should not just be about preparing for retirement.
"There's more than just whacking your money into Kiwisaver. We should, all of us in some way, have these precautionary savings that are built up in case we get unhealthy or become unemployed."
D&B general manager John Scott said: "With unemployment increasing, a growing number of New Zealanders will be affected in the months ahead. This could result in a further deterioration of finances forcing some into deeper financial difficulty before things improve."
However, some New Zealanders were planning to improve their challenging financial position, with 43 per cent of 18 to 34 years olds planning to reduce their spending and 29 per cent saying they would delay making a major purchase they planned.
Thirty-five per cent of those aged between 35 and 49 and 32 per cent of those over fifty were planning to reduce their spending in the September quarter.
The survey comes a day after Statistics New Zealand said retail spending in May showed the biggest monthly growth in 18 months.
However, ASB economist Jane Turner said many people were putting off major costs, such as a new car.
"Households are reacting to the change in economic environment. A decline in net wealth and fall in job security has seen households either looking to reduce debt or increasing precautionary saving."
* Two pay days from the gutter?
45 per cent could only last for up to a month on savings if they lost their job.
28 per cent would need to use credit to pay bills.
36 per cent intend to cut back spending while 13 per cent would increase spending.
38 per cent of part-time workers intend to use credit to pay for things they otherwise could not afford compared with 30 per cent of full-time workers.
18 per cent anticipate that their debt levels will increase compared with 25 per cent expecting a decrease.
20 per cent expect to make an application for new credit.
By Alanah Eriksen @AlanahEriksen

Email

Alanah, Alanah May Eriksen