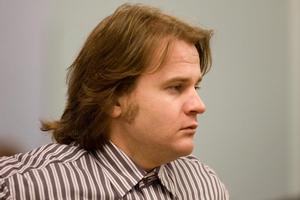 A just sentence rather than revenge is what the gay community would want handed down to a Hungarian tourist who bashed a man to death, a gay rights advocate said today.
Ferdinand Ambach, 32, a dive master, was last night found not guilty of murdering Ronald Brown, 69, but guilty of manslaughter.
He faces a maximum penalty of life imprisonment when he is sentenced next month.
During a High Court trial in Auckland, the jury was told that Ambach beat Mr Brown with a banjo before ramming the instrument's neck down his throat.
The attack happened after Mr Brown met Ambach in a bar and took him back to his Onehunga flat.
Part of Ambach's defence was that Mr Brown, who was gay, made unwanted sexual advances to him.
At the trial, defence lawyer Peter Kay raised the possibility that Mr Brown might have attempted to rape Ambach, which triggered "a monstrous rage" during which Ambach lost control.
Gay rights advocate Neville Creighton said he could understand the jury's conclusion of manslaughter, as it appeared that there had not been evidence of premeditation.
But the gay community would want a sentence that reflected the seriousness of the attack.
"There's a difference between justice and revenge, but it would need to be a just sentence and not a slap on the wrist," he said.
Mr Creighton drew a comparison with a heterosexual situation.
"If this sort of panic is an acceptable defence, then every woman who has an unacceptable advance made to her would have a right to attack and kill the guy, which is patently stupid," he said.
"This was a strong, young guy with a much older man. If he had to be physical, why didn't he just punch him once and walk out?"
Mr Brown's family condemned the provocation law that allowed a partial defence of murder, with niece Tracy Evans saying they were "deeply disgusted with the verdict".
"It's a sad indictment on our legal system that the defence can completely fabricate a case and slander a good man's character in an attempt to defend a murderer."
Mr Brown's battered body was found at his flat in the early hours of December 7, 2007.
He died three days later in hospital after his life support was switched off.
- NZPA