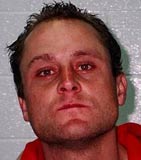 Armed police swooped on a house in the Auckland suburb of Bucklands Beach today in the hope of snaring escaped prisoner Storm Hughes.
Police spokesman Andrew McAlley said cordons were set up but when the house was searched, Hughes had already fled.
Mr McAlley said police had received a tip off that he could be at the house.
He said members of the public should be warned that Hughes is dangerous and should not be approached.
Hughes, 33, fled a work party outside the Springhill Prison in north Waikato on Wednesday.
He had "an extensive history of violence," police said.
Detective Sergeant Michele Moore said yesterday that police had received a number of possible sightings.
"We received positive information on his movements near Bombay earlier this morning and are following up reports of him being at a Pukekohe address about 8.30am," she said.
"At this point we can't stress enough the importance of not approaching Hughes, who has an extensive history of violence.
If you see this man, call 111 immediately."
Hughes was described as a male Caucasian, of medium build, 171cm tall with short blond hair and various tattoos on his arms and back.
When last seen he was dressed in a blue denim jacket and a prison uniform of grey shirt and trousers.
According to police, Hughes has lived in Australia and has a "history of violence" and was known to have connections in the Tokoroa, Turangi and Taumarunui areas.

- NZ HERALD STAFF & NZPA