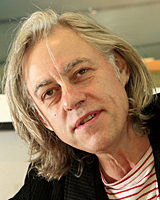 Sir Bob Geldof's timing is impeccable. He is in Auckland, speaking about - what else - global poverty, and the All Blacks are in his hometown of Dublin about to play Ireland.
He tells a story about his high school days at Blackrock College, a private Catholic school, which he calls a "rugby feeding school".
"The captain would say, 'Right, Geldof, you're a forward'. I'd say, 'What the ****. I'm not a forward.' I was on the wing because I was a very scrawny little 14- or 15-year-old. I was tall, I was thin ... You know, I'd just walk off. The priest would go apeshit. I rapidly developed a very useful asthmatic condition.
"Togging out on damp, foggy February afternoons in Dublin was not my idea of teenage bliss."
But he remembers All Black tours: "We used to await you lot with ferocious trepidation. I remember you know the All Blacks are coming ... It was like a big rock band coming. You just couldn't get a ticket for months."
Sir Bob made a flying trip to Auckland last night to address a $245-a-seat charity dinner for the Manukau Community Foundation, which raises money for social causes across South Auckland.
"I know it's a cliche but I like being here. It reminds me of Ireland, the same atmosphere, the same taking the piss."
The last time the 54-year-old was in New Zealand he caused a stir when he attacked aid levels as "pathetic". Aid was 0.27 per cent of gross national income in 2006; it has since risen to 0.3 per cent, still a long way short of a United Nations goal which New Zealand supports of 0.7 per cent by 2015.
"Wow, get the carnival party hats out. Look, I understand this is a small country and we're all in a recession," says the Live Aid founder. "A new Government has to look after its own country but I can't accept that 99.97 isn't enough to take care of everything.
"Look, it's like saying if you have a dollar and I ask for one-third of a cent ... you say that will really **** me up. No it won't. You've still more or less got a dollar."
Sir Bob challenges New Zealand to make a renewed effort to reach the UN target.
"I know you've got your own issues of poverty. Once you've seen the logic of giving people a future - getting them jobs rather than paying for fixing up things after they've committed crimes, rather than paying for them in the economy - let's include them in the economy so that they pay their share."
Sir Bob is optimistic that the bleak current picture of Africa, where millions are in desperate need of food and Ethiopia, which his 1985 Live Aid concerts helped, is on the brink of renewed starvation, can be rescued.
"The way to get Africa out of the condition it's in is through preferential aid agreements rather than barriers to trade. But in order to get to the point where they can trade you must have aid and it's very cheap."
Sir Bob pays tribute to outgoing President George W. Bush for unsung work in Africa.
"This is his sole legacy. It's very hard to find any holes in the argument that the boy done good.
"As opposed to 200,000 people dead in Iraq there is conceivably two million people alive in Africa. Please don't take that as some disgusting equation of life and death. It's not. One death there is too many."
Bush's Aids relief in Africa sees 200,000 people getting free medicine. Bush, he says, has been profoundly effective but hardly anyone noticed.
By Andrew Stone