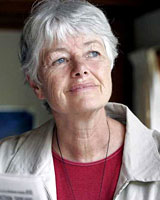 Helen Clark thinks the Greens will say before the election that Labour would be the party they could work with in a post-election deal.
The Prime Minister also said she would like to be able to involve the Greens in a government.
The Greens were devastated to be shut out of government after the last election as Labour made deals with United Future and NZ First.
Following the party's election campaign launch on Sunday, co-leader Jeanette Fitzsimons said the party would repeat what it did in 2005 by telling voters in advance who it would work with.
The Greens will this week release a list of policy criteria against which it will compare other parties' policies and programmes.
Helen Clark told Radio Dunedin yesterday that it would be Labour rather than National whose policies best fitted with the Greens.
"There's no question where the Greens' hearts would lead them to and one hopes their heads follow their hearts as they normally would do," she said.
"I am certainly going into the election saying I would like to be able to involve the Greens in a government."
At the last election Labour campaigned saying it would be happy to have the Greens in the Cabinet but the post-election scenario did not work out.
"New Zealand First was a fraction larger than they were and United Future was hanging in there with two seats," the Prime Minister said yesterday.
"When it came to forming the government, United Future and New Zealand First both completely vetoed the Green Party having anything to do with government positions in terms of being ministers.
"And that was very disappointing for me because we campaigned on the basis that we would certainly welcome the Green Party in."
She said if Labour had insisted on Green involvement National would have formed the Government instead.
Greens co-leader Russel Norman said that Labour and Helen Clark taught the Greens important lessons.
"Labour taught us the value of independence and we've learnt our lesson. [Helen Clark] gave us a good lesson in the political views of the major parties and their political approach," he said.
"I think she made her choice, she made her bed with Winston Peters and Peter Dunne and she's now lying in it."
Dr Norman said the Greens would work through their process to decide which party they could work with.
Mr Dunne said Helen Clark's comments showed she wanted a more left-leaning government.
He said greater Green influence would mean higher tax, higher welfare spending and a very expensive emissions trading scheme.
"The choices facing voters on November 8 are becoming clearer," Mr Dunne said. "We can have either a National or Labour-led government driven by extremists from the fringes or a government being guided by sensible, centrist parties like United Future."
- NZPA