Power problems produce slow start and it won't be fixed for Pukekohe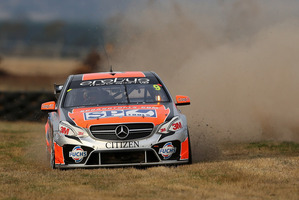 Nissan Motorsport and AMG Mercedes are both new faces in V8 Supercar racing, but there is a difference between them. For Nissan, it is a return to motor racing in Australia, but AMG Mercedes is entering the category for the first time - and it's been a bit of a struggle for the Erebus outfit.
Betty Klimenko and her crew took over the long-established Stone Brothers Racing team and have been a little on the back foot in getting the cars up to speed.
Like Nissan, they have had to start with a blank sheet of paper in preparing engines, but the job has been harder for Erebus as the engines have had to come from Germany.
"We were only in Germany late last year looking to see if we could turn an E63 Mercedes into a V8 Supercar," said Ross Stone.
"The engines had to be re-stroked to meet the five-litre rules. Admittedly, all the engines are done in Germany and arrive in a box but we have a lot of wriggle room to change things for each circuit.
"We work closely with the people in Germany and it's a really good relationship. We can change quite a lot because there's a lot of computer stuff we can modify."
But things aren't panning out according to plan and CEO Ryan Maddison, team manger Dave Stuart and senior engineer Wes McDougall had to make a quick visit to supplier HWA in Germany to discuss concerns about engine power.
Drivers Tim Slade, Lee Holdsworth and Maro Engel all feel the engine lacks bottom-end grunt and driveability.
But Stone is adamant that the programme established at the beginning of the project will remain the same.
"We knew in doing engine stuff and doing hardware stuff that it's longer timelines," he said.
"Sometimes you can turn chassis stuff around really quickly, but engine stuff takes a while."
There will be some locally developed software changes in the hope of some improvement for this weekend's ITM400 at Pukekohe, but the real changes will be implemented in time for the Chill Perth 360 in May.
This means Pukekohe will be a bit of a problem, as teams need a strong engine for one of the faster tracks on the calendar.
"Perth will represent the point when we expect to observe notable improvements in the cars' performance and by the time we enter the endurance race season we should be heading into the phase for our long-term goals," said Maddison.
The three Erebus drivers have been languishing at the rear of the field, with a best place finish of 13th for Lee Holdsworth at Symmons Plains in Tasmania last weekend.