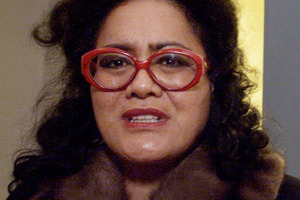 Prominent lawyer Donna Hall has been cleared of charges that she had a conflict of interest when she acted for three trusts involved in a multimillion dollar land deal.
The Law Society's standards committee alleged Ms Hall acted for the vendor, purchaser and lender during the 2007 deal, without the consent of each party to represent the others.
In her case before the Lawyers and Conveyances Disciplinary Tribunal, Ms Hall said there was not a case to argue.
In a decision released today, the tribunal found that while there was a case to argue, after considering the evidence put forward by the standards committee, the charge should be dismissed.
The case, which was heard in April 2012, followed a complaint from a shareholder of the Tauhara Middle 15 Trust, which in 2007 bought the Tauhara North block near Taupo from Landcorp for $5 million jointly with another trust.
The complainant alleged a conflict because Ms Hall acted for both Tauhara and the Hikuwai Hapu Lands Trust, which facilitated the transaction. She also acted for Tauhara Middle 4A2A Trust, which provided an unsecured loan to Tauhara Middle 15 to help fund its $1 million contribution to the deal.
Law Society standards committee lawyer Gary Turkington told the tribunal Ms Hall failed to advise each party of the areas of conflict or potential conflict, and to advise the purchaser and lender that each should take independent advice.
Ms Hall was in a conflicted position during the on-selling of the land because she was also acting for the purchasing trust, he said.
Ms Hall's lawyer, Helen Cull, said there was no conflict because her client was not acting on the land deal itself.
Rather, she was acting on behalf of Tauhara Middle 15 in its Maori Land Court proceedings, and to help remove a trustee who was opposed to the bank loan to secure the deal.
Ms Hall told the tribunal she considered her role to be "more an administrative one, than actually advising on the merits of the transaction''.
The tribunal said while there was evidence Ms Hall attended meetings of Tauhara Middle 15 owners and trustees and discussed issues regarding the transaction she did not give legal advice to them as her clients.
It also said there was no evidence Ms Hall was motivated by ``personal financial advantage'', which would disadvantage a client.
"We find that Ms Hall was not negligent or incompetent in that there was no breach of the rule that she must obtain informed consent, nor was there a breach of the rule requiring certain actions where there is a conflict which would be likely to disadvantage a party.
"The charge is dismissed.''
Submissions on costs were to be filed by February 12.