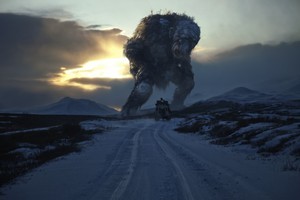 Over the past week I have been searching for the most incredibly strange film that will be screening at this year's film festival. There is a special section dedicated to these odd, terrifying, and brilliantly sick films, with this year's crop boasting titles such as Hobo With A Shotgun, KNUCKLE and, my own personal favourite, Troll Hunter.
My late-night viewing sessions of preview screeners (hey perks of the job) have been a weird, brutal, and often harrowing experience. It involved much squirming, grimacing and even a lunge for the fast-forward button when it got too scary. Hey, I was watching kooky slow-burning horror The Inn Keepers by myself, so give me a break.
The thing is, whether I was watching gleefully as a monstrous Korean serial killer got his comeuppance, or imagining the smell of "troll stench" as a bunch of crazy Norwegians ran around hunting trolls, it really is amazing what our warped little minds can endure.
Take South Korean revenge flick I Saw the Devil, which is stylish and beautifully shot but easily the most graphic and disturbing of the films I saw. The severing of one's achilles tendon - which hero Soo-hyun carries out on serial killer Kyung-chul after he finds out he has killed his pregnant wife - should really be used more in the movies.
But while the physical revenge is prolonged, grisly and oddly riveting, it's the psychological battle between the two men that is most intriguing.
"Hurry up and kill me," says Kyung-chul.
"I will kill you at your most painful moment," replies Soo-hyun coolly.
On a more colourful yet crazed note comes a showdown of a different kind in The Last Circus, from Spanish director Alex de la Iglesia. This visually confronting movie tells the story of Sad Clown, who falls for a beautiful aerial artist, who just happens to be hooked up with psychopathic Sergio (aka Happy Clown). Sure enough, there's a demented duel between the two over who gets the girl.
The name of the mockumentary Troll Hunter is worth a chuckle alone. But even more hilarious is watching deadpan troll hunter Hans and the freaked-out film crew running through the woods being chased by monsters that look like mutant kumara on legs. It's like The Office, The Three Billy Goats Gruff, Where The Wild Things Are, and The Blair Witch Project all rolled into one. Just watch out for the Tosserlad - a three-headed troll - next time you go down to the woods.
But strangest of all - although not the best, since I Saw the Devil wins that prize - is odd British suspense horror Kill List. It's deeply unusual because it starts out extremely mundane, focusing on the love-hate relationship of married couple Jay and Shel. By the end of the film a bunch of naked mask-wearing pagans are getting their sadistic jollies off in the forest. It's unnerving and fruity, with the final reveal both sick and sad.
There are other films I didn't get to see, like KNUCKLE, about the secretive world of bare-knuckle fighting and the rivalry between two feuding families in Ireland, which looks very good, as does The Woman, about a lawyer's attempts to socialise a feral woman back into the world (a film which comes with a long list of viewer warnings).
I'd always thought the Incredibly Strange films were defined by the amount of rampant sex, sadistic violence, and number of sex-crazed werewolf aliens from Uranus that they had in them. You know, films that outrage family and church groups with calls to have them banned. But this year's lot are, quite simply, incredibly strange.
- TimeOut