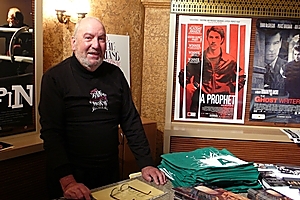 When I told Eric Kearney I'd like to have a brief word with him for my blog, festival director Bill Gosden was standing within earshot.
"You don't have a brief word with Eric," he said with a chuckle.
Eric - my amateur picture is at right - is the entirely delightful and antically courteous man ("Not at all, madam. Of course, sir.") who stands guard at the festival's information desk at the Civic - on the right as you make your way through to the auditorium entrances.
I knew as much and Eric was not in the least offended at Bill's observation. No sooner had I turned my recorder on than he said: "Right. So. A brief history of what made me who I am ..." and away he went. His English teacher, his drama teacher, BA in English at university. OE in the 50s.
"These are the things that made me who I am," he said when I tried to intervene and explain the difference between a blog and a catalogue raisonné.
And indeed, the things that made Eric Kearney who he is make a long list. He worked in Fortnum & Mason ("morning suit and all that").
"What disappointed me was that I wasn't classed as a colonial because I was so nicely spoken," he says, "But I served Greta Garbo and other stars blah, blah, blah."
(A woman approaches to ask for a programme. "With the greatest of pleasure," Eric says, practically bowing. Another will shortly ask him for information about the $3 parking discount available on presentation of her festival ticket. Eric takes her through the procedure as though explaining it for the first time.)
Without missing a beat he picks up his story.
An extra at the Royal Opera House Covent Garden when the Bolshoi came to London for the first time in 56, he studied under a former member of Diaghilev's company. Back in New Zealand he co-owned and ran the iconic Le Normandie restaurant in Wellington's Cuba St (which received the second wine licence in the country).
"We were lucky," he said, "because the Beehive was being built so we got all the diplomatic parties."
There, he can reveal, is where Tony Astle (of Antoine's fame) lost a fingertip.
"It was a particularly fine pâté that night," he says with a mischievous twinkle in his eye.
"The Royal Ballet would dine every night after the show and we were supposed to have the wine off the table by 11 o'clock," he recalls, "and the final night, Margot Fonteyn was the host of the party and we were raided but she had diplomatic immunity because she was married to [the Panamanian diplomat] Roberto Arias."
Eric has been "helping out" at the festival since 1977 but was manager of the Civic through the 90s. He remembers as few do when the festival bounced in alternate years between Kerridge's St James and Amalgamated's Civic.
"Now they just drag me back for two weeks a year, dust me off," he says, "but if there's a tour [of the Civic], I'll come in and help out because of what I know about the place."
Certainly what Eric doesn't know about the Civic could comfortably be inscribed on the back of a postage stamp. He chairs the Friends of the Civic group which was instrumental in lobbying for the refurbishment.
He also remembers Sir Robert Kerridge saying that the festival "will never last, it'll never happen".
So next time you're in the Civic, say hello to Eric. Tell him I sent you. And thank him for his contribution to making the festival what it is today.
* Eric has a blog at civicduties.blogspot.com and runs the Friends of the Civic website