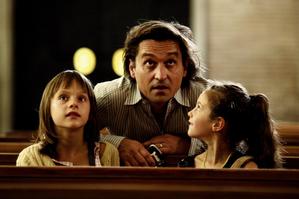 Among a strong line-up of French titles in this year's film festival, three of the stand-outs have something in common - they are all based on real events. TimeOut film critic Peter Calder spoke to the films' makers in Paris.
FATHER OF MY CHILDREN
Director: Mia Hansen-Love
The disquieting story of a movie producer who gets in over his head is based on the real-life case of Humbert Balsan, a well-regarded producer who died suddenly in 2005.
Actor Louis-Do de Lencquesaing oozes charisma as Gregoire Canvel, who juggles his workaholic tendencies with his paternal devotion. But a unexpected development at the film's mid-point is likely to stun, or even anger, audiences.
"I was not trying to have either effect," says the director. "I don't want to dictate the viewer's reaction and there's no message. I don't pass judgement on my characters either. I just want to show an authentic reality and viewers are free to have their own responses."
If there is a undeniable bleakness to the plotline, there is no denying that the second, female-dominated half has a feeling of moving towards the light. Yet I can't help asking about two glaringly unexplained plot points: the burning of some documents and the reason for Gregoire's secret other life.
"They remain a mystery," says Hansen-Love with an inscrutable smile, "and it's better that they remain a mystery."
Father of My Children: Screens tomorrow 1pm and Thursday 9pm Rialto; Fri July 23 3.30pm and Sat July 24 3.30pm, Bridgeway
FAREWELL
Director: Christian Caron
The Russian Government withheld permission to shoot in Moscow for this based-on-fact Cold War thriller, says director Carion, best known for the WWI drama Joyeux Noel. And the Russian actor who had been cast in the main role (of a KGB agent who passed secrets to the West) pulled out at the last minute.
"He received a very strong recommendation not to proceed," says Carion grimly.
The casting of Emir Kusturica, the veteran Serbian director of such masterpieces as 1985's When Father Was Away on Business, proved a happy one but filming (in the Ukraine and Finland) was still conducted under conditions of secrecy. The call sheets featured the title of another film and actors were booked into hotels under false names. "So we got a little bit into that paranoia that the characters feel in the film," says Carion. Farewell stars writer-director-actor Guillaume Canet, a big star in France (he co-starred with Leonardo diCaprio in The Beach and directed the excellent French thriller Tell No One).
The actor, who plays an engineer reluctantly drawn into one of the biggest dramas of the Cold War, says he was "totally amazed" by the facts of the case.
"It is the first time I have done movie not because of the character I will play but because I want the film to exist," he says.
Farewell: Screens Lido Thurs July 15 6pm; Civic Tuesday July 20 6.15pm and Wednesday July 21 11am
I'M GLAD MY MOTHER IS ALIVE
Directors: Claude and Nathan Miller
Claude Miller, the veteran director of such classics as La Petite Voleuse (1988) and 2007's Un Secret, joined forces with his son Nathan to bring to the screen the gripping ripped-from-the-headlines story of an angry young man's search for the birth mother who had abandoned him.
It's a powerful psycho-sexual thriller with a stunning climax that sucker-punches the viewer - the title turns out to have a chillingly resonant ambiguity - but Miller senior says only the broad outline is precisely true to life.
"It happened about 15 years ago in the suburbs of Paris and we read about it in a magazine," he says. "But we just used the main chapter headings and filled all the details in."
Miller says the film is about "how the shift to adulthood means letting go of our dreams and starting to make compromises as we search for our identity".
It seems a particularly apt project for a collaboration between father and son, which Miller thinks is unprecedented.
The division of labour happened naturally, he says: he worked with the actors and Nathan controlled the shoot. And the older man never overruled the younger. "You can't have two masters telling the actors or the crew what to do," he says. "It would have been unfair for me to pull rank. He had to make his first film."
I Am Glad My Mother Is Alive: Screens Academy Thursday July 15 3.45pm; Monday July 19 3.45pm and Monday July 19 8.30pm