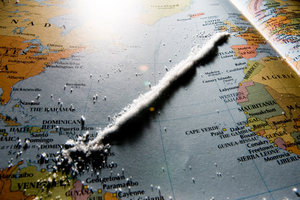 A criminologist says cocaine is unlikely to take a foothold in New Zealand despite a large shipment being intercepted in Auckland.
Three Brazilian men appeared in Christchurch District Court yesterday in relation to the haul, and a fourth was to appear in Auckland District Court.
University of Canterbury criminologist Greg Newbold said cocaine seizures were rare in New Zealand.
"The effects of cocaine wear off quickly and a user needs repeated doses to stay high for an evening, so it makes for an expensive night," he said.
"The reason cocaine is seldom found in New Zealand relates to the efficiency of our border controls, which renders importing illegal drugs risky and difficult."
Most illegal drugs in New Zealand were home produced - including marijuana, heroin and methamphetamine, Mr Newbold said.
"At the moment there are no domestic sources for cocaine. So the high cost of cocaine, its short-lasting effects, the difficulty in importing it, and the maximum life sentence attached to it, will deter most potential importers and means that the drug is unlikely to gain a foothold in New Zealand," Professor Newbold said.
Court charge sheets allege that Marcos Andre Barbosa, 35, Josue Da Conceicao, 36, and another jointly charged co-offender, tried to import the class A controlled drug into New Zealand on Friday.
Two days later, they were allegedly caught in possession of the drug, along with 31-year-old Thiago Augusto De Oliveira.
De Oliveira, a factory hand of Riccarton, was yesterday remanded in custody until Thursday.
Barbosa, a labourer whose address was given as being in the Linwood area of Christchurch, and Da Conceicao of the same address, have been charged with importing and possession.
Judge Jane Farish remanded both in custody to March 20.
Another $1 million stash of cocaine was found by chance in a shipping container in Christchurch in February.