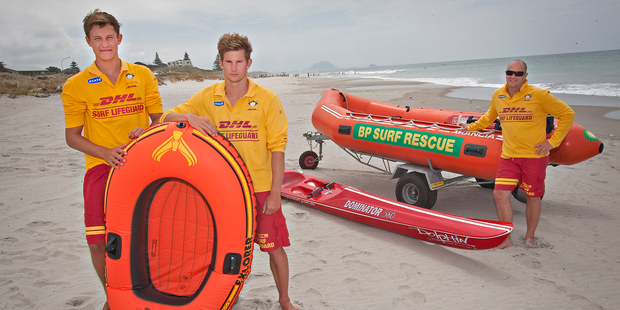 Stories making headlines across New Zealand at noon include two tourists swept out to sea in a toy dinghy, the neighbours from hell in Wanganui and a raging bush fire in Taupo.
One man from Chile and another from Argentina were spotted drifting out to sea at Papamoa beach in an inflatable toy dinghy with two little plastic paddles and no life jackets.
Some Wanganui residents say they have had to endure the neighbours from hell for 20 years.
A bush fire in Taupo which raged for three hours destroying 4ha of bush and pine next to Spa Park is being treated as suspicious.
Have you lost a large amount of cash in Whangarei?
Amazing photos of a brave new business venture where tourists get to land on the top of Motukokako Island (also known as Hole in the Rock or Piercy Island) next to a 500-foot (150m) cliff in the Bay of Islands.
Here's a photo gallery of hundreds of people on an Anti-Violence March through Whangarei.
A grove of trees could be planted at Bethlehem College as a memorial to the people who perished in the bus crash in Kenya last week.
Three teens have allegedly hijacked a car near Te Puke.
The X Factor NZ roadshow is in Wairarapa.
The Racecourse Dairy owner in Christchurch was threatened with having his "head smacked in" by a robber wielding a cricket bat.
Onlookers stood stoically in the rain on Saturday as more than 400 men were remembered by friends and family at the unveiling of the Miners' Memorial, on the Greymouth floodwall.
Top trending topics on Twitter in NZ at Noon were: #Drewfollowspree, #icot2013, #ConfessionNight, Gareth Morgan, #DrewIsOurGandhi, New Zealand, Breakfast, #DrewTo300k and #Ravens.

Other headlines from across New Zealand this morning:
Spa at Pullman among best in South Pacific
Harawira: I'd lead Maori - Mana Party
Thieves steal charity kids' pics
Matua Kindergarten fire tackled
Catch of the day is a diver
Off-duty cop hit by car going wrong way
Suspected arsons in city overnight
Basilica smashed in repeat attack

- nzherald.co.nz