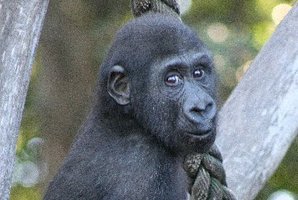 Stories making headlines across New Zealand at noon include an invitation to go drink water coming out of a mining operation, some Gorillas are planning a trip to New Zealand and horrific beatings of defenceless babies.
So-called "purveyors of the toxic-doom-and-gloom theory of mining" are being invited to Waihi to drink the water being discharged from the mine.
Some gorillas are about to give "quaked-out Cantabs" a much-needed boost.
Lex Arnold Sinclair fractured his 11-month-old grandson's skull, broke his thigh bone and two ankles and left him blind in one eye.
James Robert Hall left home detention for breaking his 4-month-old daughter's legs yesterday to appear in court to face a charge of breaching community work which was his punishment for driving dangerously last year.
While fossicking in the attic of their Waiheke Island the Jennings family uncovered their family tree stretching back 500 years.
One person is dead after a road crash in Tamahere and another has died in an accident near Ngaruawahia.
In Rotorua, Tracey Danielle Roberts plummeted 30m over a bank in her car after having a few too many. And in Tauranga, a male teenager lost control of his vehicle and smashed into a bank. Meanwhile a driving simulator is being brought in to promote safe driving in the region.
Another internet scam is doing the rounds. Here's some winners from the "coffee Olympics."
New Zealand has one the world's most over-valued housing markets, according to the Economist.
Meanwhile, increased competition the print media is facing from electronic media could have big implications for the power generation industry.
What to do with a unrepentant paroled serial sex offender that nobody wants?
There's been another cannabis bust in Dannevirke.
Meanwhile, a phantom is due to appear at Napier Municipal Theatre.
Ever encounter this problem with your name?
The East Coast could soon switch from being sopping wet to bone dry. Gisborne farmers are on track for one of the best lambing drops for some years.
Masked robbers are holding up dairies for cigarettes in Wanganui.
Do you know where the largest recorded quake since European settlement in New Zealand was.
In Christchurch, a teenager told to tidy his room stabbed his father in the neck with a 14cm kitchen knife.
Ryan Thompson was so drunk he urinated in a box of breath screening tubes at the police station.
It took nearly half of his 81 year life, but Richard Lowen's boat is ready to be launched.
Meanwhile which insurers deliver when it all turns to custard?
Over in Mid-Canterbury they are still yakking on their mobile phones while driving.
In Otago, Colin Tumaru is lucky to be alive.
Parking wardens are conducting a charm offensive in Dunedin.
A significant new coalmine has been approved in Buller in the Waimangaroa Valley north of Westport which is apparently near some kiwi habitat.
And off the coast of Fiordland two kayakers were rescued this morning.
Top trending topics on Twitter in NZ at Noon include: #JayQandA, iPad, Zayn, New Zealand, Auckland, Australia, Facebook and Join Twitter.