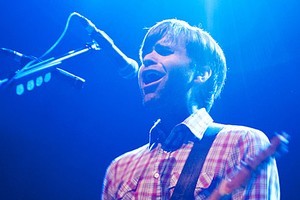 Girls, if you're looking for a rock star to take home to meet your mum, you could do a lot worse than Ben Gibbard.
With his buttoned-up checked shirt, short-cropped mop of hair and goofy dancing, the endearingly eccentric and newly single Death Cab For Cutie front man looks more like a librarian than the singer for a band with seven albums under their belts.
"How could we only just get here? What were we thinking?" declared Gibbard as the Seattle four-piece kicked off their very first New Zealand show as part of the International Arts Festival.
It's a good question. It's taken Death Cab 15 years to perform here, something they promised Kiwi fans they would make up for with a greatest hits-type set canvassing most of their career.
And that's exactly what we got - but it took them a while to warm up, with the meandering, bass-driven stalkerish single I Will Possess Your Heart possibly better suited as a mid-set anthem.
They soon kicked into gear with the uplifting piano kick of Doors Unlocked and Open and the jaunty Long Division, which saw Gibbard shuffling around the stage and switching between microphones.
Death Cab are known for their heart-on-sleeve lyrics that can be embarrassingly intimate - like peeking into your sister's diary and wishing you hadn't gone there.
So I Will Follow You Into the Dark was almost too personal, as Gibbard performed solo, playing acoustic guitar while pouring his heart out over his infamous death bed anthem.
Some of Death Cab's earlier songs - like Soul Meets Body and Transatlanticism - seem a little out of kilter with last year's Grammy-nominated Codes and Keys, an album lighter in tone and more melodic than previous efforts.
Many of the set's highlights came from that album and the preceding Narrow Stairs, like You Are a Tourist, which comes with a giant guitar riff U2's The Edge would be proud of. And the thumping drumming that gave Cath and throbbing encore Home is a Fire plenty of bounce and groove.
Then there's Codes and Keys, a Coldplay-style anthem with such an uplifting chorus - the song's "We are alive" crescendo almost dares you not to sing along - you have to wonder what Gibbard has been moaning about all this time.
"Get home safely and take care of your mum" were the band's parting words.
See? Your mum will love them. Just don't break Gibbard's heart again, or you might end up in one of his songs.
What: Death Cab For Cutie
Where: Wellington Town Hall
When: Wednesday, February 29