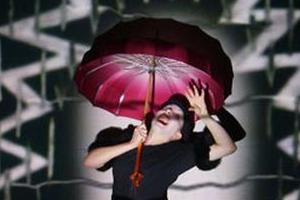 Imagine if you will a pair of precociously talented and tight, well-to-do young twin girls, endlessly role-playing and storytelling aloud in their bedroom, with the aid of little more than a few white sheets and pencils. Dressed sinisterly in identical black pinafore dresses, as they try to out spook and out weird each other their games get more hysterical and darker. In short the Parker Hulme girls' shadowy movement towards "moidering mother" is taken down a delightful theatrical path.
The very British group behind the dark and witty parlour game play with comedy and the surreal that is Between the Devil and Deep Blue Sea are called 1927, and everything about the show is a heightened theatrical echo of the performance style of this date. It also has the flavour of the gothic illustration work and literary nonsense of American Edward Gorey. Served out in ten unrelated short vignettes, the writing and its illustrative presentation has the sharp witty poetry of the great dark tradition of absurdist and macabre children's illustrated stories.
It's as if the three white faced performers have stepped out of the screen from 1927, the screen imagery continuing to act as frame around them. Live music and performance interact simply but ingeniously with filmed black and white drawing, stop motion animation and film. The play ends and starts for example with one actor standing before a sheet upon which a projected pair of legs run. She struggles, like in some silent movie comedy gag, to keep in time with her upper body.
Integral to the show's success is the clever drawing, animation, film and design of Paul Barritt. He borrows eclectically for imagery from every storytelling stylistic template possible from the period, all couched in the moving image aesthetics of the silent film era.
1927 are clearly a tight-knit quartet, collaborating closely across media for the creation of each piece. Besides Barritt, there is composition for ever-chattering piano from LiIian Henley, writer and director Suzanne Andrade and costumer Esme Appleton, the last two the principle performers.
Andrade's crisply annunciated stories are darkly delicious, if sometimes rather slight. They range from marauding gingerbread men who see raspberry jam run in the street, to the "nine deaths of Choo Choo the French La Chat". My favourite was that of Little Julie, the girl whose parents play charity tennis matches for poor children while applauding the daughter's games outside their house with a plastic syringe pretending to be homeless - because its better than watching the television. While on their own these stories don't add up to much, it's the seamless integration of all elements and the talents of the four members of company that makes this show such a delightful diversion.
No such applause for the new Festival club venue however. While neatly designed by theatre designer Tony Rabbit in a waterfront shed (a really great example of what could be possible for Auckland Theatre Company and others relatively cheaply on the Auckland waterfront), the intimate performance experience of the round wooden festival tent has been replaced by a large stand of sports seating. It stuffs at least twice as many people in for an experience which offers none of the specialness previously offered for such high ticket prices. While the next door bar is most certainly the place to be seen this festival, and there's clearly demand for theatres of this seating size, it's far from the cabaret or club style setting many will rightly expect.
* Between the Devil and the Deep Blue Sea runs from March 6-14 at the Pacific Blue Festival Club, as part of the NZ International Arts Festival in Wellington.