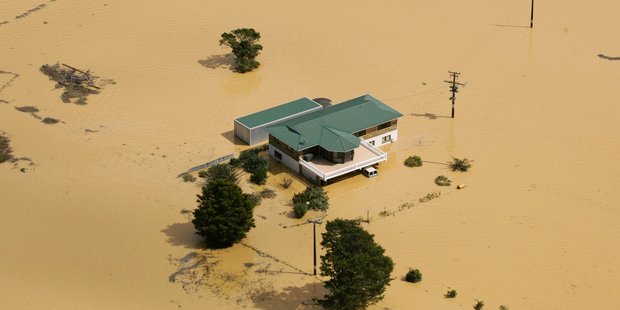 It's the tail of the fish that gets cut off and chucked aside.
Here in the thin tail that gets buffeted by every weather front, when we're not in full-scale drought it's getting harder to wait patiently in line when the priority goes to the marginal seats further down the line.
Harder to ignore that the Far North and Whangarei (except for a one-off Labour win in 1972) have been romp home majority seats for the National Party since moa were last seen near the Maromakus.
When it comes to vision, there is a piecemeal tinkering rather than a full-scale plan that will leave a legacy of improved wealth and stability for everyone.
Take the roads. No I mean it - take them because right now they're not worth a lot. It's not all about the roads but when does a storm cease to be a "once in a 100-year event" when an area has flooded four times in the past six years?
Ask the farmers in Hikurangi how often that once-in-a-lifetime storm comes along and they'll tell you every second year. Ask the people of Kawakawa and Kaeo how rare a severe flooding is and they'll tell you they're getting tired of replacing the carpets or having State Highway 1 cut off. Perhaps it's the insurance companies who will end up doing our critical thinking for us but it's getting increasingly difficult to believe that the National Party has a plan for Northland other than toxic mining or a nice place to have a bach for a couple of weeks in January.
And it's not local government that's going to come to the rescue either. When I asked a senior staff member - nearly 18 months ago - how building a new city of 40,000 houses, on a low-lying area designated by civil defence as a tsunami risk zone, fitted into any concept of building resilient communities in light of climate change, he said by way of an answer that if Ruakaka became a problem then Auckland would be one too. I'm sorry but that does not sound like a plan.
I love scientists - but I'd hate to marry one. At the altar he'd say: "I am 99 per cent certain that I'm fairly fond of you but a divorce is likely." It's just the way they are. Despite paid lobbyists efforts to the contrary, scientists are singing the same song about climate change and here, in the economically fragile north, we really need a plan.
When the Prime Minister's science advisory committee says, in its 2013 report on climate change, that just because the nature of science expresses data as probability rather than certainty, it doesn't mean it isn't happening and it would be imprudent not to act, we should listen.
We have an over-supply of economic development groups, what we lack is the will to invest in sustainable development. What we get instead is a press release that Stephen Joyce visited members of the National Party and "business leaders" and they ... err ... talked among themselves.