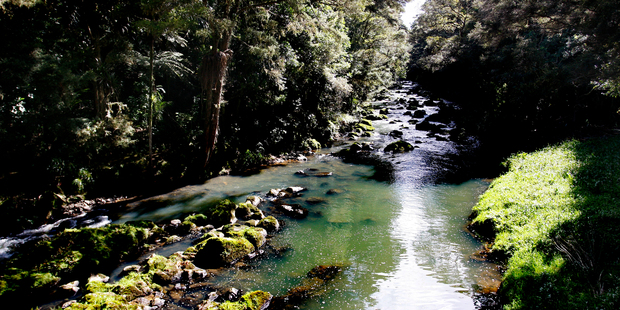 The Green Flag award for Whangarei's Parihaka and Hatea River reserves is both a confirmation and reminder for Northlanders of the quality of this unique piece of land and river.
On the king tides this month, I kayaked up the Hatea, actually, the Hoteo river, at one point, ghosting across the Mair Park lawn. As my wife and I had paddled up the river, we had seen evidence of early Pakeha settlement not visible from the road, healthy fish life and, occasionally, proof that plastic indeed, is not biodegradable.
We took a turn into the backyards of artistic home owners living on the river, and slid past sculptures on flooded lawns.
The king tide made it a unique experience, but the water doesn't have to have royal status to be enjoyed.
The water was clean, something I take personal pride in after the issue of harbour pollution was highlighted in the Northern Advocate in November 2008.
The paper's focus on the issue was the catalyst for public and council reaction that gave us the 2012 pumping station at Whareora Rd that can hold one million litres of tainted water back from entering the harbour. We would not have this Green Flag Award if residents had not spoken loudly about the quality of its harbour water. Sites for a Green Flag Award are judged against eight key criteria including being safe and secure; clean and well maintained; sustainability; conservation and heritage; community involvement; marketing and management.
The Whangarei District Council's Parks and Recreation Department submitted the Parihaka and Hatea River reserves as a group of sites for the Green Flag Awards partly because several sites are in the process of design work for improvements, such as Whangarei Falls, Parihaka and Mair Park.
The development of our reserves - without devaluing their unique ecology - is long overdue. For a long time, walkers and joggers stepped over exposed drainage coil in Mair Park day after day in winter until someone had the foresight to drop half a ton of concrete on the pathway, which still floods by the way.
Mair Park - at least in the area alongside the river, at the base of the metal track, deserves to be paved in the same manner as the Town Basin, with lighting, and areas for public entertainment.
Being able to walk from Mair Park to the Town Basin, on the Hatea Drive side of the river, along a wooden boulevard would be fantastic. The great thing about developing our reserves - sure, tourists are going to enjoy them - is creating a world class environment for locals. And that's what matters most.