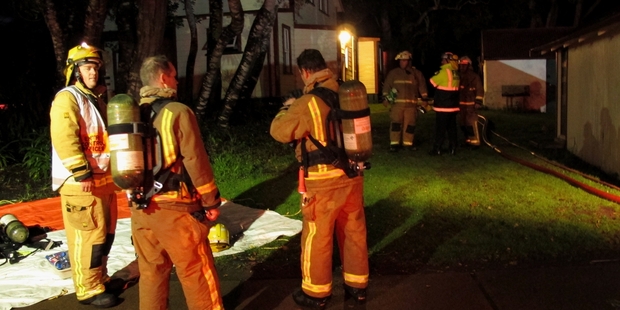 One of Paihia's most historic buildings has been damaged in a suspicious fire.
Firefighters were called to Williams House, next to Paihia's Village Green, at 4.40am yesterday after a delivery driver spotted flames at the rear of the 94-year-old building.
Fire crews from Paihia, Kerikeri and Kawakawa managed to stop the fire spreading beyond one corner of the two-storey weatherboard house now used as a library and gallery.
Far North area fire commander Allan Kerrisk said the fire appeared to have started outside and had broken through to a storeroom and an office. Damage inside, however, was minor.
After extinguishing the blaze firefighters wearing breathing apparatus opened all the windows and used fans to ventilate the smoke-logged building and minimise damage.
The Kawakawa brigade's thermal imaging camera was used to check for hotspots, and firefighters removed part of the roof to ensure the fire had not spread into the ceiling cavity.
The Fire Service had called in police, Mr Kerrisk said.
"There doesn't seem to be a natural source of ignition," he said.
Police inquiries are continuing. The library is closed until further notice.
Among the first to raise the alarm were a newspaper delivery driver and security guard Anthony Kenny, who was driving down School Rd when he saw smoke rising above the trees.
"As I got closer I could see the flames going up the side of the building. It was well and truly alight," Mr Kenny said.
Paihia firefighters, whose station is just around the corner, arrived within minutes.
Williams House was built in 1920 by Percy Williams, grandson of the pioneering missionary Henry Williams (1792-1867).
The house and Village Green was sold to the then Northland Harbour Board in 1967 and handed over in 1993 after the death of its last occupant, Mary Williams.
It is owned by the Far North District Council with the gardens maintained by the Friends of Williams House.