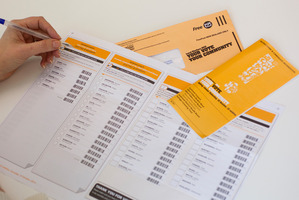 Hundreds of Northland voters have been removed from the electoral roll after failing to update their enrolment details.
Across the Northland electorate, 535 voters were removed from the roll after their enrolment packs bounced back marked "gone, no address".
A further 627 voters were removed from the Whangarei electoral roll.
Northland registrar of electors Deborah Darton said the Northland numbers were quite low compared to previous elections: "That's pretty good. We've done a lot of work of course through the year, trying to get everyone up to date."
Many voters had enrolled last year because of local-body elections, being offered the choice to move to the Maori electoral roll, and the November citizens-initiated referendum on asset sales.
Some Northland voters contacted Ms Darton to explain they had registered their holiday homes as temporary postal addresses, and enrolment packs had been sent there after the owners had vacated the properties, she said.
Throughout the country more than 43,000 voters moved house without updating their enrolment details, and have been removed from the roll.
The Electoral Commission mailed enrolment update packs to everyone on the electoral roll at the end of June, asking them to check their enrolment details.
The Wellington Central electorate had the most voters removed from the roll with 1237, while the Waimakariri electorate had the fewest with 351.
Enrolment services national manager Murray Wicks said voters who had moved house and not updated their details needed to complete a new enrolment form.
"If you didn't get an enrolment update pack, we don't have your correct enrolment details. You need to enrol now so you can have your say in the September 20 general election," he said.
Would-be voters can check their enrolment online at www.elections.org.nz, by calling 0800 36 76 56, or by checking the newly printed electoral rolls at PostShops and public libraries in their electorate.
Voters can freetext their name and address to 3676, get a form from a PostShop or call Freephone 0800 36 76 56.
People can also enrol or update their details online at www.elections.org.nz
- APNZ