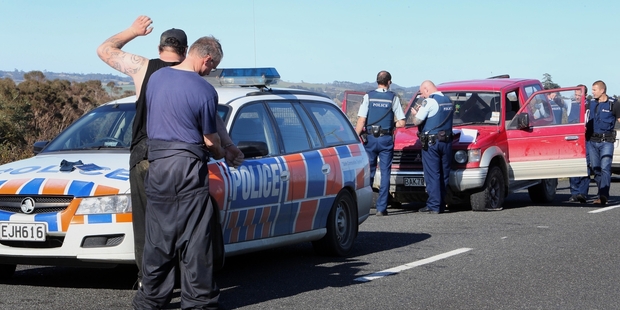 A Whangarei mother is thanking her lucky stars after her toddler indicated she wanted to be picked up only moments before a vehicle allegedly fleeing police sped through an inner-city park metres in front of them.
The driver of the car, which also carried a woman and 3-year-old child, was arrested after police said he led them on a 20-minute, high-speed chase through Whangarei before road spikes were used to stop him. The child has been referred to Child Youth And Family (CYF).
The man's alleged driving caused safety concerns for those who came across the chase, with mother Prem Hoko thankful for avoiding injury and feeling like she had been in a "Hollywood movie".
Ms Hoko was walking beside her 19-month-old daughter Ariella across Mander Park yesterday morning, when the toddler held up her arms, signalling she wanted to be carried.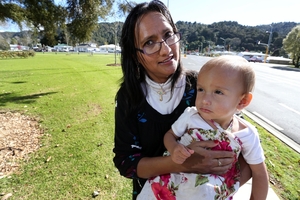 Moments after Ms Hoko lifted her, a Mitsubishi Pajero sped through the park from Western Hills Drive, skidding in front of her and Ariella - and where she thinks they may have been if she had not stopped - then on to Central Ave.
Police said the vehicle was fleeing and was stopped 15 to 20 minutes later on rural roads in Ruatangata after road spikes had been deployed.
Close call
"If [Ariella] hadn't of asked me to pick her up, I don't know what would have happened - we could have been hit ourselves," Ms Hoko said.
"It was dangerous, volatile driving that could have ended up in a big crash. It makes me wild. These people could have killed someone."
The chase began after a property owner disturbed a man allegedly breaking into a shed on Tangihua Rd, Maungakaramea, about 9.10am yesterday.
The suspect took off in a Mitsubishi Pajero, police said, and they spotted it near Pompallier College, on State Highway 14, 20 minutes later.
Police had pursued the vehicle, resulting in a chase through central Whangarei and then north through Kamo.
The man is alleged to have reached speeds of up to 85km/h through the city, and his driving forced oncoming vehicles to swerve to avoid collisions.
He was alleged to have travelled in excess of 110km/h on winding rural roads north of the city.
He was eventually stopped on Rushbrook Rd, Ruatangata, about 19km northwest of Whangarei, after police used road spikes to deflate the vehicle's tyres. The vehicle travelled about another 800 metres before stopping.
'Extremely reckless'
Detective Sergeant Aaron Crawford said the driver was extremely reckless, putting a number of lives at risk.
"He went straight through the centre of town, and at that stage of the morning, town was pretty busy with cars and pedestrians."
The man allegedly took off on foot, but was quickly arrested, and police had discovered a woman and child in the vehicle.
The 28-year-old driver has been charged with burglary and will be facing other charges including driving while disqualified, reckless driving, failing to stop and failing to provide the necessities of life.