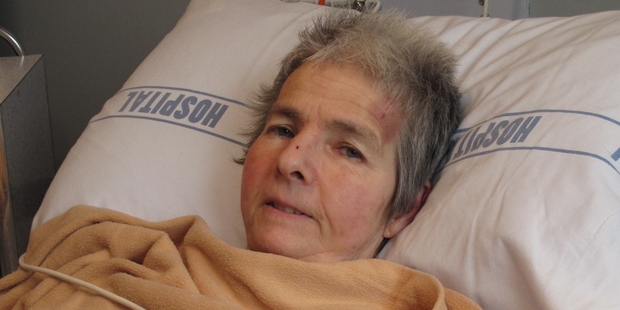 Kaitaia woman Ivy Cramond has lost her home and everything she owns in this week's storm - but says she's the luckiest person in Northland.
The 58-year-old was pinned to her chair when a giant macrocarpa toppled onto her house in Tuesday's high winds, bringing the roof crashing down on top of her.
The roof was resting on her legs, head and one hand, but the top of her Lazyboy took the weight of the heaviest beam.
"I'm lucky to be alive," she said.
Miss Cramond said she had rented the "lovely home" on Korimako Lane for the past nine years, but was concerned about a row of large macrocarpas - especially when she saw the packed isobars and easterly wind in Tuesday's weather forecast.
Sure enough, one of the trees came crashing down about 2pm.
"Then about 4pm the wind really picked up, and I though, 'gee, this doesn't look to flash'."
Half an hour later she heard an almighty crack, then a smash as the 25m tree hit her house and the roof collpased on top of her.
Had she been lying back in the chair, as she usually does, she is certain she would have been killed. Instead a rafter landed on either armrest and the back of the chair took the weight of the central beam.
She was in pain and pinned down by her head, shins and one arm, but knew - thanks to 25 years' experience as a St John Ambulance volunteer - that no bones were broken.
Miss Cramond said she was not given to swearing, so said to herself: "Oh bother, I think I'm in a bit of a mess".
She managed to wriggle one arm free and reach her cellphone, which she had had the foresight to charge before the power went out, and called 111. The "wonderful" operator stayed on the line and reassured her until Kaitaia Fire Brigade arrived.
The volunteers used hydraulic lifting and spreading equipment to raise the roof, then got her chair out, put her on a stretcher and carried her to the ambulance.
"It was very painful, with all that weight on my leg, but they were just brilliant. They didn't take long to get there, and they worked out pretty quickly how to get me out. I know the fire boys, it was nice to see their friendly faces," she said.
Miss Cramond is recovering in Kaitaia Hospital and described herself as battered, bruised and shaken.
"My home has been wrecked and I've lost all my possessions, but I'm not really thinking about it. I know I'm very lucky to be alive."
Her message to others caught up in difficult situations is "don't panic and don't give up, because help is on the way".
Miss Cramond has no family to stay with and is uninsured.