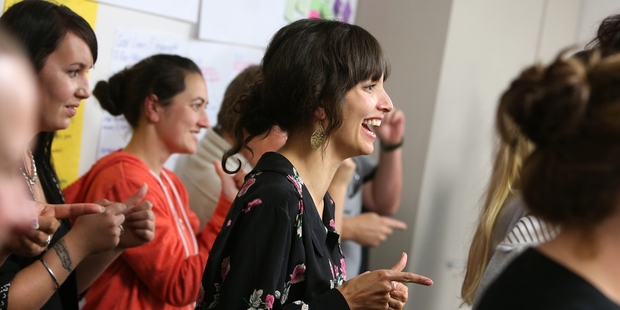 Teachers love singing and those used to encouraging pre-schoolers to join them in song love singing the most.
So guitarist Pikihora Brown-Cooper had no trouble making music with students studying with Te Tari Puna Ora o Aotearoa ki Whangarei tertiary provider for a bachelor's degree in teaching early childhood education yesterday.
She soon had them singing a chicken song, hands tucked in their armpits, they vigorously flapped as they crowed out words in Maori and chorused with loud bird noises in rooms at Toll Stadium in Whangarei.
The singing celebrated the ending of the students' first term of study, coinciding with the Maori New Year or Matariki, the Maori name for the cluster of stars known as the Pleiades, which rises in mid-winter.
Traditionally, Matariki was a time to remember those who had died in the past year. But it was also a time for singing, dancing and feasting after crops had been harvested.
Te Tari Puna Ora o Aotearoa ki Whangarei honoured the feasting aspect of Matariki with a fine hangi meal for everyone at the event.
Among the students was Dan Taylor, 21, one of only four men among the 150 students studying to be early childhood teachers in the Te Tari Puna Ora o Aotearoa courses at Whangarei and Kaitaia.
He said both his parents were teachers, which had attracted him to the three-year course.
He enjoyed the job security the course offered, with school work on Wednesdays and the other week days paid for teaching preschoolers.
Another student, Hilary Taylor, 25, said she had joined the course when working with her 4-year-old daughter developed her passion for helping young children learn.
Meanwhile, Matariki will be celebrated in style during the Whanau Festival at the Whangarei Town Basin on Saturday. From 1pm-7pm there will be entertainment by the Emma Paki Trio, Benno from Soljah, the Hatea hapa haka group, Big Henry Hapi, Vera rapana, Martin Family Quartet, Calib Rawson, Northland Hardcore Dance, Alien, Ngatiwai Tangitahi Roopu and Northland Youth Music.
Matariki food will be available from Town Basin cafes and organisers say hangi kai will be on sale too.
Northland-based film-maker Karen Sidney will launch her Creative Northland-commissioned, Matariki-inspired multimedia installation at the Whangarei Art Museum from 10am.