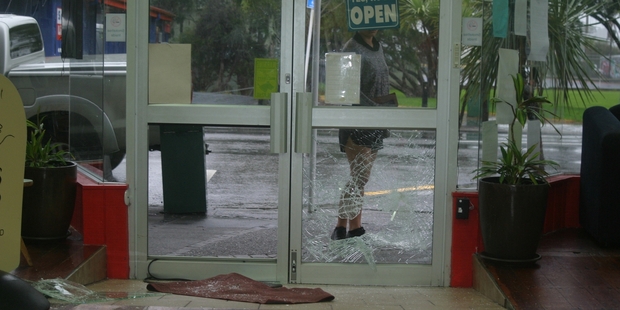 Jenny Petera works hard to make a go of Birdie's Cafe in Kaitaia's main street. So do the staff she employs.
But, on Tuesday morning, she was on the verge of calling it quits.
Burglars had smashed their way through the glass door in the early hours of that morning, precisely seven days after the cafe was raided for the first time.
They took the cash register (for the second time) and the float it contained, the tip jar and a vase of poinsettia flowers.
Ms Petera, who was swinging between rage and despair as she waited for the police to arrive, said the most galling aspect was that she, the police and just about everyone else knew who the thieves were.
The problem, from the police point of view, was that they were in their early teens and effectively untouchable.
That cut no ice with her though.
"Don't these kids have parents?" she asked.
"I'm told there's no point looking to them but why the hell not? Everyone's too cuddly, cuddly 'my poor child' PC these days. Kick them up the **** I say.
"Surely the police can at least question them and let them know they can't do this sort of thing. They know, and I know, these kids' names and where they live, but they just keep getting away with it. Apparently they come from Whangarei, and as far as I'm concerned the little ******* should go back there.
"What are we paying these people for? And why do we keep giving benefits to the parents of kids who do this sort of thing? I'm sick of paying tax to keep people like this while I'm working seven days a week, giving people jobs, and getting treated like this."
The burglaries had knocked the stuffing out of her, she said.
"I can't be bothered opening. I can't be bothered cooking for anyone. I think these little ******* have just about finished me off. And you know what really gets me? No one in this town backs you up or does anything. We have kids like this running around doing what they like, and nothing happens.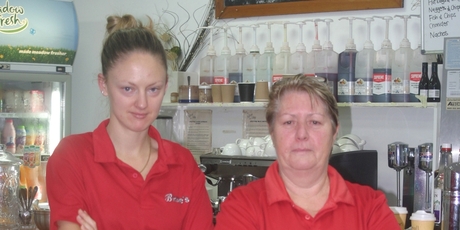 "I employ six people here. What are they going to do when I decide to sit at home on a benefit?"
Birdie's seems unlikely to close just yet though. While she waited for police to arrive, Ms Petera told her staff they should start preparing to produce coffee for "the regulars".
Keeping the doors open was not going to be cheap though.
The last cash register had cost her a couple of thousand dollars and at the moment she could not afford to buy another one.
The till stolen last week was hers but the one taken this week had been lent to her.
Her insurance policy has a $2500 excess.
Police share Jenny's anger
Kaitaia's senior police officer had no problem understanding Jenny Petera's reaction after her cafe was burgled in the small hours of Tuesday morning.
"This makes me just about as angry as she is," Senior Sergeant Geoff Ryan said.
After the first burglary, precisely seven days earlier, police had spoken to a number of "likely" youths.
No admissions were forthcoming, however, and police did not have enough evidence to charge anyone.
A team was out again yesterday morning. The cash register had been found in a rubbish bin and would be finger-printed. "Some names are being thrown around but no there is no firm evidence yet to say exactly who they are. I could take a rough guess, and guarantee I wouldn't be far off the mark, but tracking them down and then getting the evidence is another thing."