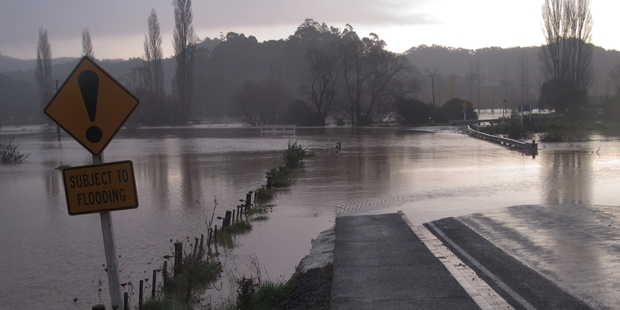 A weather bomb that dropped just south of Whangarei closed State Highway 1 and resulted in some cars becoming more like boats floating in floodwater.
Whangarei police Senior Constable Warren Bunn said heavy rain made driving almost impossible near the Blue Goose area south of Whangarei about 8.45pm on Tuesday.
"It was like a river was running across the road. I'd slowed down to 60km/h and the windscreen wipers could hardly keep up," he said.
"I've never seen rain like that before in Northland. It was like a weather bomb dropped and was very localised."
On the south side of Lookout Hill, the water rushed off the surrounding hills, gushed down a drain and with so much momentum flooded across the road on the corner before the intersection with Loop Rd. Mr Bunn said about five vehicles had to be towed out of the deep water by a four-wheel-drive truck before they floated away.
Acting Sergeant Aaron Furze was also called to the scene and said local volunteer firefighters were also called in to help.
The highway had remained closed for a couple of hours until the water receded and the road had been cleared of debris.
"I've never seen it like that before in that section of road. Thanks to the guys with the four-wheel-drive, they just kept pulling cars out of the water."