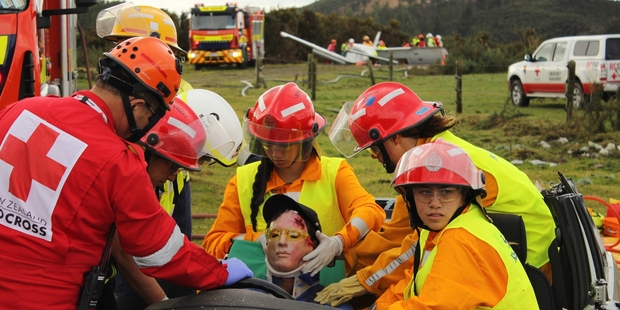 A major emergency unfolded near Kaikohe on Saturday when a light plane crashed into a field, clipped a car and sparked a scrub fire.
Fortunately the plane crash was just an exercise, the culmination of six weeks' training for 12 Kaikohe teens enrolled in the Youth in Emergency Services (YES) programme.
The Far North's biggest inter-agency exercise in at least a decade, the simulation at a Ngawha Springs farm was also a valuable chance for the services to practice working together in real-life emergencies.
When the teens arrived after a short flight by helicopter, they discovered fires burning beside a crumpled plane and badly injured victims scattered in and around the wreckage.
One team got to work dousing the fires and helping Red Cross assess the injured, while another joined a Coastguard search team looking for a passenger who had parachuted to safety but landed in a stream.
A third team got to work applying first aid to two people trapped in the car, then freeing them with the jaws of life.
The YES trainees, aged 16-18, had spent the previous five weekends with each of the Far North's emergency services, so Saturday's Civil Defence-led exercise was a chance to put all they had learned into practice.
Heaven Williams, a Year 12 student at Te Kura Kaupapa Maori o Kaikohe, said the programme had taught her how to assess emergency situations and the importance of teamwork.
"You really have to rely on the people around you," she said.
The 17-year-old was considering joining Coastguard, because she loved the sea, or Rural Fire, "because you've got to be pretty gutsy, you never know what you're going to come up against".
Shaun Wright, also from the kura kaupapa, said he had learnt about the commitment made by volunteers and how they left their families to save others.
He was tossing up between the Fire Service and Coastguard: "Fire has all the best tools, and with Coastguard you get to be out on the water".
Northland Regional Council emergency management officer Shona Morgan said the programme was run in six New Zealand centres, with Kaikohe the only one in Northland.

MP Nikki Kaye, Minister of Civil Defence and Youth Affairs, came up with the initiative to encourage young people to volunteer in emergency services and get involved in their communities.
"They're really motivated and all turn up on time. They've come together really well as a team," Ms Morgan said.
Kaikohe fire chief Bill Hutchinson said he was "rapt" with how well the trainees had participated and grown in confidence. The programme had also given them another career option to consider.
The trainees will graduate at Kaikohe Fire Station next Saturday, then choose one of the services to volunteer with for two months.
Services taking part on Saturday included Civil Defence, Red Cross, Fire Service, Rural Fire, St John Ambulance, Coastguard and police. Red Cross brought an inflatable welfare/casualty sorting centre and volunteers from as far away as Auckland.