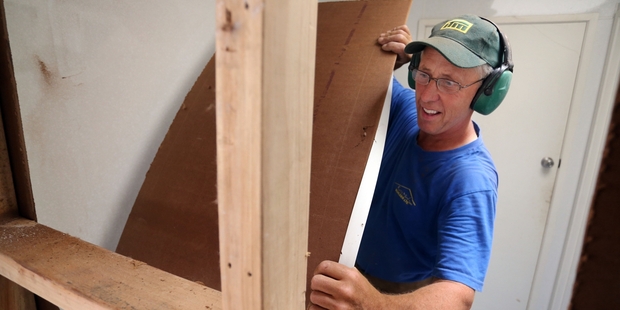 Building consents and the construction of new houses have shot up sharply in Northland - but the region is struggling with a shortage of skilled tradespeople.
Statistics New Zealand figures reveal an increase in building consents in Northland of 53 per cent in February compared with the same month in 2013.
Consents worth $20 million for 69 new Northland houses were issued in February, compared with 62 the previous month and 45 worth $11 million in February last year.
But builders the Northern Advocate spoke to said many tradespeople from Northland, particularly young builders, have moved to Australia, Christchurch or to other places after having difficulty finding work in the past couple of years.
The surge in building consents and new builds started about November and December last year, they said.
Whangarei builder Ross Minty said: "There's a big shortage of skilled tradespeople and we have a situation where there are more jobs than enough men to work on them."
He said despite the banks' lending restrictions, especially on first home buyers, people were collecting deposits from various sources and were keen to own their homes.
The Reserve Bank last year announced that low deposit lending will fall outside the banks' 10 per cent limit if it is financing the construction of a new house or apartment.
Citing an example of an increase in house construction and renovations, Mr Minty said bookings for house frames through hardware stores now needed to be done nine to 12 weeks in advance rather than the two to three weeks allowed previously.
Kaikohe builder Malcolm Williams said the reason a lot of work was available on the construction front was because of a lack of tradesmen.
"There was no work for these people a couple of years ago and that's when they left for Christchurch and Australia.
"The situation with sparkies and plumbers isn't this bad."
Another builder said it was pretty hard not only to find suitably qualified men to do the job but getting some building materials on time.
Barry Trass, director of Whangarei-based Home World, said business had picked up.
"People have had enough of sitting back and doing nothing.
"Even though interest rates have gone up a little bit they're still reasonably low and we're certainly seeing an influx of buyers coming from Auckland that have finally realised that Whangarei exists." New building consents in February also went up nationally.