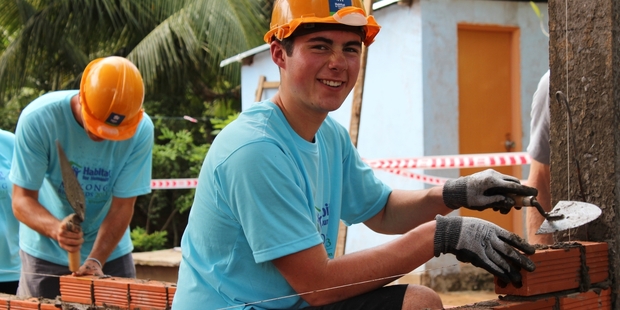 When 17-year-old Joey Faithfull joined the Habitat for Humanity build team in Vietnam last year, he wasn't sure what to expect.
The Kamo High School student was the youngest in his build team for the Global Village Build, a Habitat programme where volunteers travel overseas to build decent shelter.
"[It was] hot, different, busy, exciting and really well worth it.
"The first few bricks that I laid on our team's house were a bit 'creative', but I certainly got the hang of it in the end," he said.
Joey describes the experience as life-changing and it's inspired him to tell others to take up a hammer and nails and help those less fortunate.
Habitat for Humanity Northland is appealing for Northlanders who wish to take part in this year's Global Village Build - this time in Nepal.
Habitat for Humanity Northland chief executive Conrad LaPointe, who will be leading the project, said in November Habitat is planning to bring more than 1500 people together to build 100 homes for Nepalese families.
"While our local work is very important, there is a huge need overseas in developing countries for decent shelter. In a short space of time, we can make a huge impact on families that lasts for generations."
Volunteers will be split into teams and, led by qualified builders, help build a home over six days with their Nepalese partner family.
No previous build experience is necessary, just a willingness to get stuck in.
"This is certainly a holiday with a difference. It is a very fulfilling and emotional experience, building a home alongside a family who have no decent place to live," Mr LaPointe said. "Everyone who joins us on these trips has the most amazing time."
For more details on the Everest Build, contact Conrad LaPointe on 0272 391 082 or northland@habitat.org.nz.