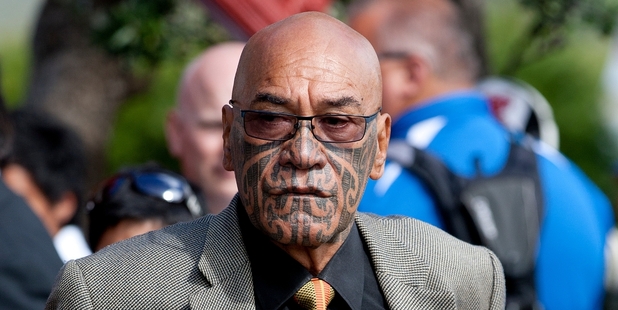 Ngapuhi elder Kingi Taurua is sticking up for young Waitangi Day protesters and criticising Maori knights, dames and others who bypass the Waitangi Marae to celebrate the day at the Copthorne Hotel with the Crown and "their other Pakeha mates".
Mr Taurua said it made him boil to see Sonny Tau and other members of the Iwi Leaders Forum doing "underhand" deals with Prime Minister John Key at the hotel when they knew they should go to the marae first.
"They are undermining the Treaty and He Whakaputanga (the 1835 Declaration of Independence). The Iwi Leaders Forum is not mentioned in the Treaty - hapu are in the Treaty," Mr Taurua said.
He accused the knights and dames of putting themselves above the protesters.
"They think the young people are troublemakers."
Mr Taurua said he had been impressed with the way protesters had behaved and put their concerns about the the possibility of offshore oil drilling causing a spill which would pollute the shore.
They also believed oil drilling would not produce jobs for them, although Mr Key had told them the discovery of more offshore oil would boost employment.
Mr Taurua said Government promotion of Treaty settlements and many other advances for Maori had come through protest at Waitangi, not through "leaders mana-munching and being slaves of the Crown" at the Copthorne Hotel on Waitangi Day.
He said he had told Treaty Negotiations Minister Chris Finlayson the Ngapuhi Treaty settlement would not happen unless the minister talked to the right people.