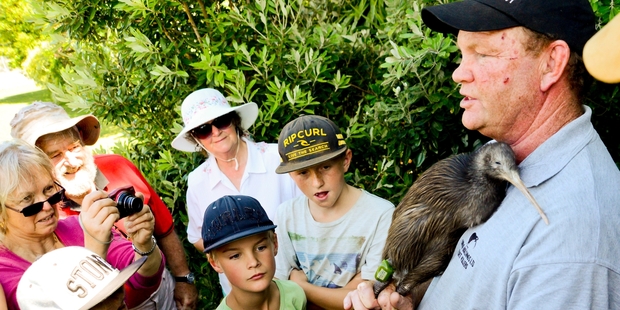 Whangarei residents had a close encounter with a kiwi before the bird was transported to a new home.
Last weekend, more than 80 people from Owhiwa, Whareora, Mt Tiger and Abbey Caves areas gathered for the rare opportunity to meet a live kiwi.
The kiwi was raised on the protected kiwi "creche" on the Matakohe/Limestone Island, and named Goldie after island sponsors Golden Bay Cement.
Goldie met members of local landcare groups and the community at Owhiwa for a couple of hours before travelling in the safe hands of DoC kiwi ranger Rolf Fuchs to her new home on predator-free farm land in the Brynderwyns.
Neil Cook, co-ordinator of Owhiwa Landcare Group and host of the event, was blown away by the encounter.
"It was really amazing to see a live kiwi up close and find out what we need to do to help kiwi flourish in our area," he said.
"Kiwi have just been rediscovered near us, and it was great to see so many locals interested in helping kiwi thrive."
Todd Hamilton, project manager of the Whangarei Heads Landcare Forum and trained kiwi handler, held Goldie while more than 80 locals got up close enough to see special kiwi features like big fighting claws, large ear holes and whisker-like feathers above her bill.
The distinctive kiwi smell, so attractive to dogs, was also evident as Bernie, the ranger on Matakohe-Limestone Island, invited kids to smell Goldie's transport box.
The event was brought together by the Kiwi Coast initiative, which aims to support and connect community-led conservation projects along eastern Northland to boost kiwi populations and enable them to live safely and freely.
The Kiwi Coast initiative is the first pilot project of Reconnecting Northland, delivered jointly by NZ Landcare Trust and WWF-New Zealand.
It is a a Northland-wide ecological restoration project and the first of its kind at this scale in New Zealand.
Kiwi Coast co-ordinator Ngaire Tyson said: "Your local landcare group is a great opportunity to get involved in your community and help protect special species like kiwi through monitoring, trapping and protecting their habitats."
More information about Kiwi Coast or joining your local landcare group is available at www.landcare.org.nz/kiwicoast or from Ms Tyson.