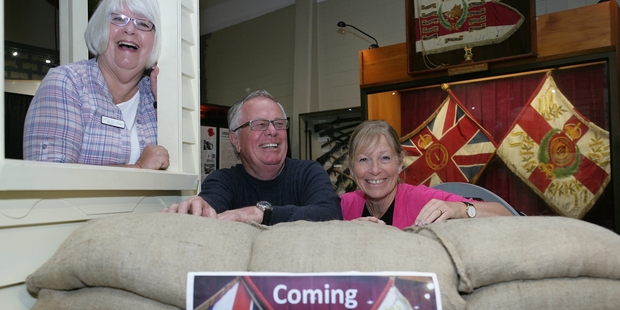 A corner of the main exhibition room at the Kiwi North Whangarei Museum is being turned into a World War I trench.
But when visitors step past the sandbags and barbed wire when the exhibit opens in April they won't be in the horror of Passchendaele.
Inside the trench will be 20 comfortable chairs facing two large television screens.
One screen will feature aspects of the war. New Zealand had a population of slightly more than a million people in 1914 and of the 100,000 who served overseas more than 40,000 were wounded and 18,500 killed.
The other screen will show interviews with Northland relatives of about 40 former soldiers, describing how the old diggers in their families fared.
Kath Hansen and her husband, Stan, will tell how Stan's late father, Bert Hansen, twice escaped from German captivity while serving on the Western Front.
George Owen was filmed at the Otiria Marae explaining how his late father, Arthur, and uncles George and Walter Owen served together in the Maori Pioneer Battalion tunnelling on the Western Front.
Tales will also be screened of the Gallipoli campaign in 1915-16 in which about 480,000 Allied forces took part with more than 250,000 casualties and 46,000 dead, including 2721 New Zealanders.
Museum director Stewart Bowden said visitors could use smaller screens to watch films about key factors in the war while wearing headphones so they don't disturb people watching the big screens. There will be displays of medals and special tables, each of which will hold four iPads set to World War I websites so children can delve into war history.
The Auckland War Memorial Museum is loaning Kiwi North a kiosk in which people will be able to record their family war stories and leave contact details so they can be filmed later.
Mr Bowden said the trench exhibition was expected to remain in the museum for four years, with its collection of local family war stories expanding all the time.