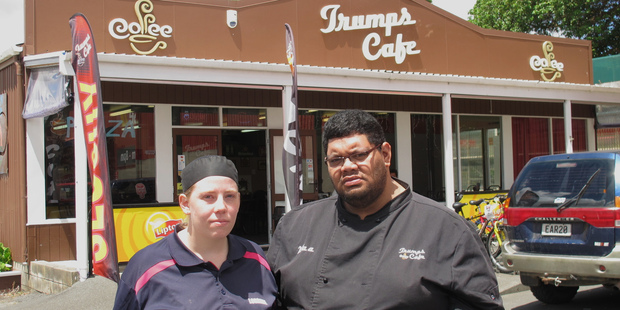 Kaikohe police are ramping up a campaign against criminals targeting homes and businesses in the Kaikohe area and the blitz is already paying off.
The campaign has led to the arrest of a 16-year-old thought to be involved in at least 10 burglaries and thefts targeting schools, service stations, cafes, homes and dairies.
The teen was allegedly also involved in a break-in at Trumps Cafe, which prompted owners Waa and Lorraine Whareaitu to quit their business because of the ongoing stress and cost caused by 17 burglaries in the past three years.
The youth was due to appear in the Kaikohe Youth Court yesterday. Police were planning to oppose bail. Senior Sergeant Chris McLellan, prevention officer for the Far North, said police were ramping up their targeting of thieves and burglars in Kaikohe.
"There has been an unacceptable number of offences and repeat victims. We're not going to put up with it and we're committed to sorting it out," he said.
The arrest of the 16-year-old came after police responded to a call about a youth revving a chainsaw in the Station Rd car park last Wednesday.
When police arrived, he dumped the chainsaw and fled, leading to a foot chase and his arrest. Detectives and front-line staff had linked him to at least 10 thefts and burglaries.
The youth was believed to be part of a group of offenders and police aimed to locate them all, Mr McLellan said.
On Monday police also recovered three stolen cars and arrested two gang members.
To counter the surge in property crimes, police had boosted patrols and were targeting known offenders on bail to make sure they met bail conditions.
Police were also meeting Kaikohe business owners to discuss crime-prevention methods, security cameras, and an email group to allow police to communicate quickly and directly with businesses. A sticker had been designed for shop windows to help police contact business owners quickly.
Feedback from the meetings had prompted changes to police patrols and service, Mr McLellan said.
Mr Whareaitu welcomed news of the second arrest related to the January 7 break-in of his cafe. The coffee syrup taken, possibly mistaken for alcohol, was worth just $150 but the burglars had caused more than $1000 in damage. The insurance excess was $1000.
He said residents and business owners could rest easier knowing arrests were being made.
The other accused appeared in the Kaikohe Youth Court last week.
Mr Whareaitu said the 16-year-old's arrest was sad because the youth had "the most amazing grandparents in the world".