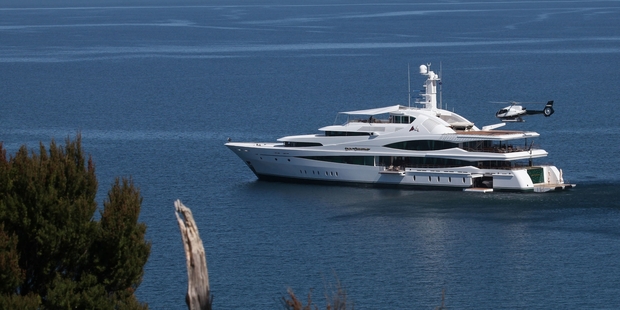 Tom Cruise did not call in at Hihi last week. Neither did anyone else from Hollywood, despite anything resident Colin Salt might have said.
He couldn't resist gilding the lily just a little after he spotted a superyacht gliding past the bottom of his garden.
Word subsequently got out that Tom Cruise was in Doubtless Bay, he said, and just for a moment he gave the story some legs, volunteering the information that the star had dropped by for a ride on Colin's quad bike. Then he thought better of it.
"That's how rumours start, I suppose, so I admitted it was absolute ****," he said.
Lady Christine was no mirage though. Presumably the successor of the Lady Christine built in 2003, Lady Christine IV is owned by Lord Irvine Laidlaw, reportedly one of Britain's richest tax exiles, who at last report was worth $1.4 billion.
He is described as one of the major financiers of the British Conservative Party and bankroller of London's Mayor, Boris Johnson.
Lady Christine is his wife.
The couple, who live in Monaco, have apparently been on a slow world tour since 2003.
Scottish born Lord Laidlaw, 70, made his millions by building the world's biggest conference organising business, which he sold eight years ago.
Built in 2010, Lady Christine IV is 68 metres from stem to stern, sleeping up to 10 guests in five state rooms, including a master suite, three double cabins and one twin cabin. It can also carry up to 16 crew.
It has a cruising speed of 13 knots and a top speed of 15.5 knots, while the 179,500-litre fuel tanks give it a range of 8500 nautical miles. Amenities include a helicopter landing pad, at-anchor stabilisers, a gymnasium, swimming pool, cinema and air conditioning.