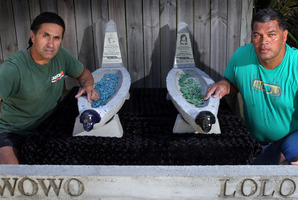 Just over a year ago mother-of-two Patricia Ann McGrath (Wowo) was buried after one punch took her life. Since the tragedy her family embarked on a journey to raise public awareness about domestic violence. Reporter Kristin Edge was at Wowo's unveiling this month at Korokota Marae at Titoki and caught up with her whanau.
IT'S NICE to hear light-hearted laughter in the McGrath family home. John and Kate sit at their wooden kitchen table as the curtains gently billow in the warm summer breeze.
Nearly gone is the deep hurt that could be seen in their eyes for so many months. It's still there if you look hard enough but their eyes are softer, happier.
"It's been exhausting physically, mentally and financially," says Kate.
"There is still more to be done. We need some time to figure out what we need to do next. First we need to spend time together as a family and enjoy life.
"Last year we were very much stuck in our grief. Our lives just stopped. That was a process we had to get through.
"It makes me really proud that we were able to mobilise and do all that we did. I think that's typical of us though, if we are passionate about something we make it happen.
"If we had wallowed in the anger we may not be here today ... our relationship might not have survived," Kate says glancing across at John.
"We had to turn that emotional turmoil into something real and into something people could understand."
Leaning back in his chair John says: "I've learnt to love."
"I'm no churchie," he quickly adds with a laugh.
"But love is the key when it comes
Love helps family survive Wowo's loss
It shouldn't be a dirty secret - that's why domestic violence keeps killing people. People need to be brave and speak up. Wowo dying has made us brave but it's got to be done. People need to be honest and less accepting of the violence.Kate McGrath, Wowo's sister-in-law
down to it. It's the first experience you have and it's what you take with you. All the anger we experienced last year, all the drive and passion comes from our love for Wowo."
He said remaining silent was not an option.
"Even though Wowo was silent, she made us speak up."
JUST over a year ago - a day after Patricia Ann McGrath's death - I sat at the same table in the Whangarei home with the couple, along with John's mother Jane and brother Albie.
It was a very different scene. Tears, anger and raw emotion boiled over.
Phillip Andre Mahanga punched 34-year-old Patricia in a house they rented in Kamo. The mother-of-two was taken to Whangarei Hospital with head injuries. Four days later she was taken off life support and died, surrounded by family.
Mahanga, 33, was eventually sentenced to three years in jail for manslaughter.
Amidst the initial grief John McGrath said the death of his younger sister Wowo would send the whanau on a journey.
How right he was.
But I don't think even he could have predicted how that journey would affect so many many people in Northland in such a positive way.
And, in a strange way, it has brought his family closer together.
Nine days after Wowo was buried the ripple effects were felt. John led hundreds of people through central Whangarei on a march in the hope it would prompt women to leave violent relationships.
For a man who had spent 20 years as a builder stepping into the limelight pushed him outside his comfort zone. And never far away was Kate, more used to balancing books as an accountant.
The harrowing journey became the subject of a documentary entitled Enough is Enough.
The DVD project was funded by New Zealand Police, Ministry of Social Development's It's Not Ok campaign and the Northland District Health Board, and has since been played to families identified at risk.
WOWO'S death also triggered memories of a tragedy that the McGrath family experienced in 1976.
In August 1976, the family were travelling back to Auckland when a drunk driver slammed into their car. John, 2-years old at the time, was flung from the vehicle. His mum Jane was injured, as was an uncle.
But his dad Robert and sister Patricia Ann McGrath, aged 9, nicknamed Lolo, were killed.
Three years later in Middlemore Hospital Jane gave birth to a baby girl, on January 5. She was named Patricia Ann McGrath, the family's second chance at a sister of that name.
It was older brother Albie, nicknamed Flange, who said he wanted his older sister Lolo and father Bob back in Northland.
And so set in place a chain of events.
Cemetery officials along with health officials were contacted. Family consent was given and Lolo and Bob were exhumed from the Manukau Memorial Gardens on January 3 this year and taken to Korokota Marae.
The following day they were taken to the urupa, placed next to where Wowo lay, and covered with the rich red soil. Together, all three were unveiled.
The graves of Wowo and Lolo were marked with beautiful metre-long waka, crafted by John, which incorporated a glass head on each made by local artist Shona Firmen.
"The waka represent the journey that they have made us travel," John said.
"They symbolise the journey we went though last year."
It was a huge occasion, says Kate.
"Unveiling these waka was the end point for our grieving, we need to move on with our lives."
Kate says it was also bitter sweet as Wowo's death had been the catalyst.
After a turbulent year the McGrath's are finally able to start getting some kind of normality back in their lives.
But they are clear the journey doesn't just stop here.
"What we have done is fantastic but it's not going to stop there.If we can help change lives it means more than building someone's letter box," says John.
"We need to figure out how to make this part of our lives and not take over our lives. It certainly doesn't pay the bills."
Kate becomes animated when she talks about what she wants to do.
"It shouldn't be a dirty secret - that's why domestic violence keeps killing people. People need to be brave and speak up. Wowo dying has made us brave but it's got to be done. People need to be honest and less accepting of the violence.
"I honestly think it will take three generations before there is a real difference. It's terrifying to think the cycle is continuing. If you don't actually try and stop this violence it will never end."
Kate leans forward and it's not hard to hear the passion in her voice.
"Women have to take the power back. If it means leaving the bullshit behind, do it. You have one shot at life, why suffer under someone's reign of terror?"
For John it's simple: "I don't want people to go down the journey we have taken."
As a Maori proverb says: "He waka eke noa" - a canoe we are all in, with no exception.
The McGrath family have steered the waka out and it is up to Northlanders to keep pushing the anti-violence message.