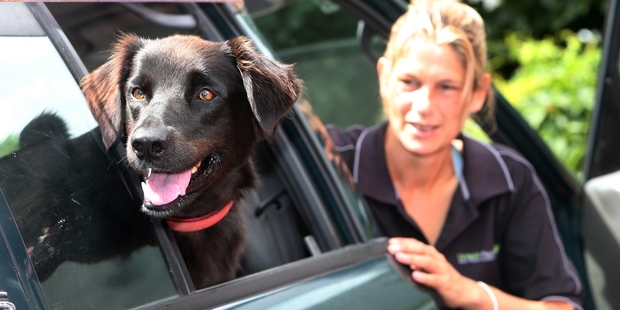 Leaving your dog in a hot car is like putting someone in an oven, Northland dog owner Rachael Chester warns.
Her 4-year-old SPCA rescue dog Dr Seuss nearly died on Tuesday when he was accidentally shut in her car for nearly two hours.
The border collie-retriever cross had snuck into the back of the vehicle, the car door was then closed, and his disappearance was not noticed until Ms Chester went to feed the dogs two hours later. "He came out of the car and kept collapsing. His skin and eyes were dark red.
"We hosed him down, chucked buckets over him, anything to cool him down. Then we rang the vets, who said to bring him in immediately," she said.
"The vets told us that his organs had effectively started to cook. They had to give him a cold IV to cool his core."
Dr Seuss spent two nights at the Mill Rd veterinary clinic, before being given the all-clear to head back with Ms Chester to their Mangakahia home.
"It's a miracle that he survived - 90 per cent of dogs do not survive it. It's pretty horrendous," Ms Chester said.
"Basically for a dog, a car is like being put in an oven."
Ms Chester said that when she arrived at the vets she was told there had been two dogs in the past week that had come in for the same reason.
"I feel so blessed Dr Seuss survived. I'm very, very lucky. My heart goes out to those whose pets didn't."
Ryan Cattin was the Mill Rd vet who looked after Dr Seuss.
"The main thing people need to know is how easily it happens. Be very wary in the summer months," he said. "If it does happen, the first thing you want to do is cool them down, use a hose or any form of water you can, and call your vet."