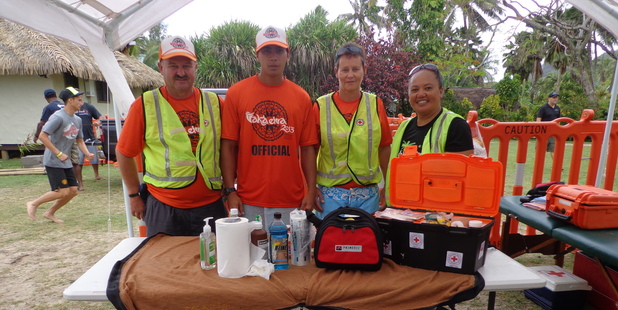 A Northland couple is keeping a close eye on all the waka ama paddlers competing in Rarotonga this week despite never having tried the sport.
Robyn and Shane Schrafft, from Paihia in the Bay of Islands, are heading a medical team looking after the 1200 from around the world that have converged on Rarotonga for the 10th Vaka Eiva competition.
The Schraffts have visited Rarotonga for the last six years, at least twice a year, and during previous holidays have helped train staff at the local hospital.
The couple was approached earlier this year by local Brent Fischer, who is also involved with water safety, and asked if they would be interested in volunteering in the biggest event on the island's sporting calendar.
Mr Schrafft, a St John intermediate paramedic and chief fire officer at Paihia station, jumped at the chance to give something back to the community.
"They are really receptive to learning new things. We learn what they do and work with them to get the best result," Mr Schrafft said.
Mrs Schrafft is an Intensive Care Paramedic and works out of Kerikeri and Paihia. She said it was a great experience to be involved in such a major sporting event.
"They are really keen to learn off us and see how we treat patients."
During the iron races on Monday the couple alternated between being on a boat, following the flotilla of waka, and manning a first aid station at the race center at Avarua Wharf.
During racing one paddler had to be taken from his waka onto the medical boat and treated for heat stroke back on shore. Another paddler had to be treated for multiple blows to the head after her canoe flipped.
Other injuries including removing kina spikes from feet and abrasions.
Oropai Mataroa, of the Cook Islands Red Cross, said it was great to have such experienced medical staff onboard for the week-long paddling event.
She had been involved in Vaka Eiva for five years . While she had first aid training it was great having the Schraffts with their extensive medical knowledge.
Mrs Schrafft is a keen kayaker but neither of them has tried waka ama. They were both impressed with the crews during a great day of racing.
They will follow the crews in the round Raro races on Thursday and Friday.