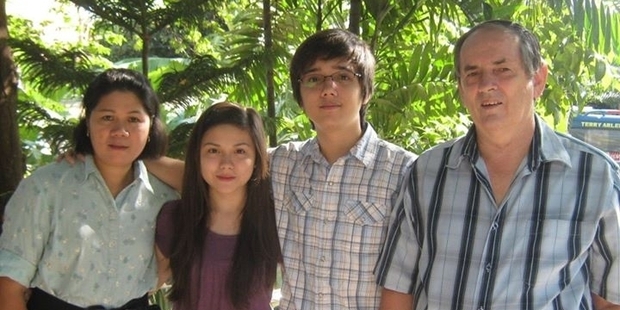 A former Northland man is thanking the God he serves that no lives were lost in the biggest typhoon known to hit the area where he and his family live in the Philippines.
Elsewhere, Typhoon Haiyan left a trail of death and destruction when it swept onto the Philippines on November 8 - killing more than 4000, leaving 1600 missing, and destroying the homes of 4 million people.
But church leader and Bible college founder Nigel Pyle, who grew up on a farm at Kokopu, near Whangarei, said that in Liloan district north of Cebu City, no one died or was injured. Less than 50km away, there was great destruction.
Typhoon Haiya's terrible swipe followed a 7.2-magnitude earthquake that hit Cebu on October 15. While many thank God for their safety, they are also mindful that science - and local knowledge - played a major role in saving lives. With warning that Haiyan was on its way, there was time to take precautions, Mr Pyle said.
"Local people prepared the best they could but as this storm was evaluated we knew that if we were too close to the centre we would not survive without great damage because it was the most powerful storm on record."
The Central Philippine Bible College brought in extra food supplies and candles, and charged up electric torches and cellphones. Trees hanging over houses were cut down, possessions packed up and moved to dry, secure places and windows made as waterproof as possible.
The college's staff and 27 students moved into the strongest buildings overnight, the orphanage.
"We prayed hard that we would not get hit by the centre of the storm as winds were reported to be over 300km per hour," Mr Pyle said. "The main storm winds arrived at around 10.30am. By just after noon the high winds had subsided enough to go outside."
Since Haiyan, Mr Pyle and his wife Loida have been helping with the distribution of aid, praying a lot, and calling for help for the people they work among.
"Help is firstly in the way of relief goods and then later in practical things such as building materials," Mr Pyle said.
Anyone wanting to assist the Pyles with the rebuilding of damaged homes and churches can donate funds to his Westpac account: Nigel K. Pyle, account number 03 0 498 0507617-25, marked either Typhoon relief or Earthquake relief.