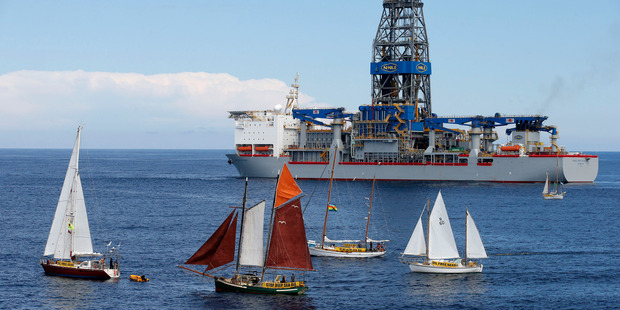 The crew of a Northland protest boat is playing a waiting game with a giant oil drilling ship about 200km offshore in the Tasman Sea.
Ratbag, a 13-metre schooner, left Opua last week Tuesday to join a six-strong sailing flotilla protesting Texan oil company Anadarko's plans to start exploratory drilling in about 1500m of water.
The boats reached the drill site over the weekend and the 229-metre drill ship, the Noble Bob Douglas, arrived on Tuesday. It has since been joined by three support ships.
On board Ratbag are its owner Chris, who did not want to give his surname for fear of legal repercussions, and his partner Ina.
The Noble Bob Douglas' captain warned all vessels by radio to stay at least 500m away from the drill ship.
Following the protests that greeted Brazilian oil company Petrobras off East Cape, the government rushed through the Crown Minerals Amendment Act 2013. The new law, nicknamed the Anadarko Amendment, establishes a 500m non-interference zone around any oil drilling ship or rig.
Greenpeace spokesman Steve Abel said as of yesterday afternoon five boats, including Ratbag, were waiting outside the exclusion zone. Only the 11.5m ketch Vega, a veteran of the Mururoa protests, was inside the 500m limit and refusing to leave. Among those on board are Greenpeace
NZ chief executive Bunny McDiarmid and former Green Party co-leader Jeanette Fitzsimons.
Mr Abel said the drill ship's captain had warned the Vega's crew of the new law and put out a call over-riding the usual right-of-way of sailing vessels. All boats had been radioing back with ''various polite messages'' asking the captain to cease drilling and depart.
It was now a waiting game, he said.
It was likely the drill ship's captain had notified New Zealand authorities but there was no sign of police or the Navy yesterday.
The East Cape flotilla lasted 42 days with police eventually arriving on board a Navy vessel. This time authorities could make use of the helipad on the back of the drill ship.
The boats were operating independently but Mr Abel believed Ratbag's intention for now was to act as a support boat just outside the 500m exclusion zone.
The Tasman's notorious weather, unusually calm so far, could determine how long the flotilla stayed.
''As long as they can safely remain, they intend to stay there,'' Mr Abel said.
The Oil-Free Seas Flotilla is a loose coalition of boat owners opposed to deep-sea oil drilling. The drill site is in the Taranaki Basin 110 nautical miles off Raglan.