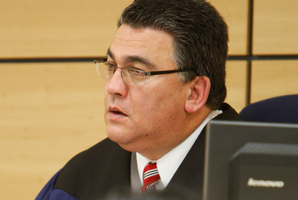 The inquest into the death of a researcher who was apparently swept out to sea while testing water on a remote island has started this morning.
Mihai Loan Muncus-Nagy, 33, is presumed dead after disappearing on Raoul Island in January last year.
The inquest into his death began in Auckland today, and is expected to last two days. Coroner Brandt Shortland will hear from a number of Department of Conservation (DoC) staff, as well as Ministry of Business Innovation and Employment (MBIE) investigators.
Mr Muncus-Nagy's wife, Kinga, was in court this morning. She flew from their home country of Romania to attend the proceedings.
Mr Shortland welcomed her and said he wanted to acknowledge all Mr Muncus-Nagy's friends and colleagues in attendance.
Mr Muncus-Nagy, a DoC volunteer, went missing as he was taking temperature readings from water on Fishing Rock on the island about 1100km northeast of Cape Reinga.
The department later acknowledged it could have done more to prevent the tragedy and, in November last year, was convicted of failing to ensure his safety.
Mr Muncus-Nagy was one of four volunteers helping three DoC staff who monitor seismic and volcanic activity and conduct conservation work to protect the more than 100 plants native to the Kermadecs.
The coroner's findings are expected to be reserved until a later date.